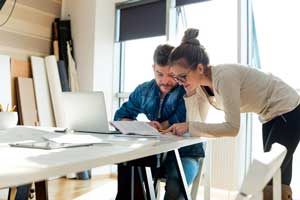 Thinkstock/StockRocket
Nonemployer firms that applied for financing were more likely to operate at a loss, according to the recently released 2015 Small Business Credit Survey: Report on Nonemployer Firms.
This report, produced jointly by the Federal Reserve banks of St. Louis, Atlanta, Boston, Cleveland, New York, Philadelphia and Richmond, examined trends in businesses with no employees other than the owners. As the report noted, these businesses make up nearly 80 percent of all U.S. firms.
Applying for Financing
The report noted that 32 percent of survey respondents said they applied for financing in the previous 12 months. Among those who applied, the most common reason (66 percent) was to expand the business or to take advantage of a new opportunity. The next most common reason (38 percent) was to cover operating expenses. (Respondents could select multiple answers.)
Among those businesses that did not apply for financing, the top three reasons were:
Debt aversion (33 percent)
Already had sufficient financing (30 percent)
Believed they would be turned down (25 percent)
Profitability: Applicants vs. Nonapplicants
As the report noted: "Collectively, applicants were less profitable than the nonapplicants." The figure below shows the difference.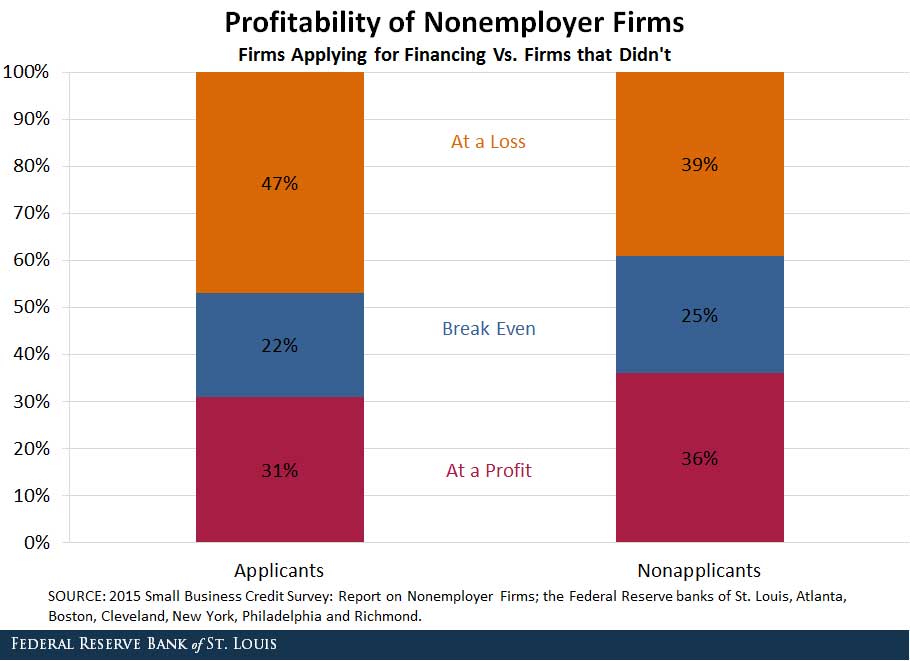 Financing Approval
Among firms that applied for financing, 41 percent were not approved for any of the funding they sought. The percentages of firms not receiving any funding grew smaller as firms grew larger: 48 percent of firms with less than $25,000 in revenue did not receive any funding, while only 28 percent of firms with revenues greater than $100,000 did not receive funding.
About 71 percent of firms received less financing than the amount sought. When asked about the primary impact of this financing shortfall, the top response (33 percent) said the firm had to delay expansion. Other top answers were that they used personal funds (22 percent), were unable to meet expenses (18 percent) and passed on business opportunities (13 percent).
Additional Resources
This blog offers relevant commentary, analysis, research and data from our economists and other St. Louis Fed experts. Views expressed are not necessarily those of the St. Louis Fed or Federal Reserve System.
---
Email Us
All other blog-related questions