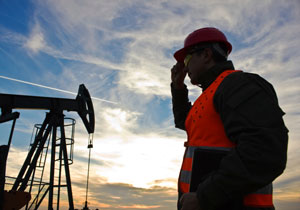 Thinkstock/Alexjay
U.S. job growth slowed sharply in March, as the nation added only 117,000 jobs (a 55 percent drop below its recent trend). A recent Economic Synopses essay examined this drop for signs of weakness in the job market. Specifically, the authors looked at a possible connection with the recent decline in oil prices.
Economist Maria Canon and Senior Research Associate Yang Liu looked at private nonfarm payroll employment growth over the period March 2014 through May 2015. Regarding the March drop, they noted that:
Goods-producing industries added an average of 44,000 jobs per month from March 2014 to February 2015. In March, they lost 20,000 jobs.
Service-providing industries added 218,000 jobs per month over the same period. In March, that number dropped to 137,000 jobs.
Canon and Liu noted that more than half of states saw a decline in job numbers, and the states that lost jobs were geographically spread out. However, a few states stood out as major drivers of this slide. In particular, Texas alone accounted for 37 percent of the decline. Other states with notable declines included:
Pennsylvania (12 percent of the decline)
Georgia (10 percent)
Oklahoma (9 percent)
North Carolina (8 percent)
Missouri (8 percent)
Kentucky (8 percent)
Texas and Declining Oil Prices
The authors noted that Texas had been leading the nation in job creation for an extended period. However, its job growth slowed in January and February from its recent average of 29,000 jobs per month. Then in March, jobs declined by more than 24,000.
Canon and Liu posited that the drop in oil prices1 contributed to the decline in jobs both directly and indirectly. The mining and natural resources industry contributed 9 percent of the job losses. Industries related to oil had larger contributions:
The wholesale and retail trade industry, which includes oil-related trading, accounted for 28.5 percent of the decline.
The professional and business industry, which includes oil-related research, accounted for 24.2 percent of the decline.
The construction and manufacturing industries accounted for 18.7 percent and 7.4 percent, respectively.
The authors wrote, "Thus, nearly all the data point to the slack in oil-related industries as the primary driver of the decline of the Texas job market in March."
Conclusion
The authors concluded, "Overall, the March 2015 U.S. job-growth deceleration corresponds to slack in a few industries. And because the slowdown is concentrated in very few states, it does not appear to be systemic. … Because the data suggest slow job growth in March is linked to low oil prices, long-term effects of the decline seem very unlikely."
Notes and References
1 The U.S. spot oil price declined from $105.79 per barrel in June 2014 to $47.82 per barrel in March 2015.
Additional Resources