Louisville Zone: Economic Education
The economic education specialists at the Federal Reserve Bank of St. Louis provide economic and personal financial education outreach to K-16 educators. In addition to developing award-winning online courses, podcasts, and a variety of other resources for K-16 educators to use in their classrooms, specialists also offer professional development and in-service programs for educators to improve their understanding of economic and personal finance content.
---
Contact Economic Education Staff
More about Economic Education in our district.
---
Economic Data Posters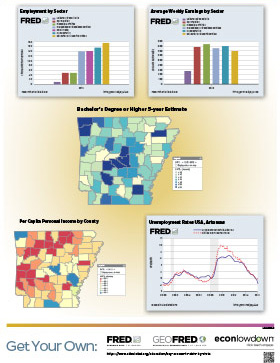 This classroom-ready poster shows how two free data tools—FRED® and GeoFRED®—give students the latest insights into real world employment, earnings, and education.
Federal Reserve Economic Data (FRED) lets anyone download, graph and track more than a quarter million U.S. and international time series from dozens of sources. GeoFRED maps that data with easily adjusted tools. Students see real world data that directly affects them.
---
Professional Development Workshop