St. Louis Fed Hosts Southern Arkansas Economic Development Briefing
Oct. 18, 2016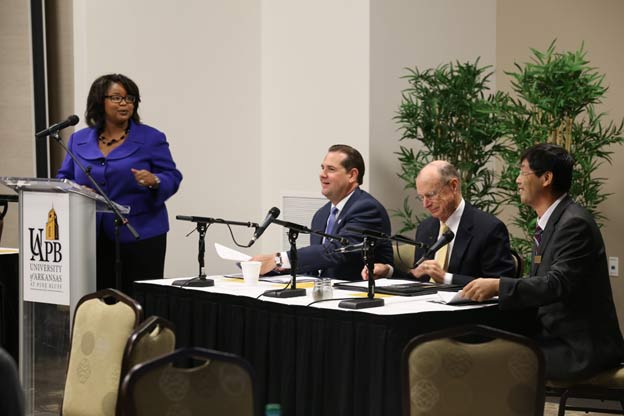 Panelists discuss economic conditions and the outlook for Southern Arkansas at a breakfast briefing held on Oct. 18, 2016, at the University of Arkansas at Pine Bluff. Pictured (from l-r): Carla Martin, Chris Masingill, David Rankin and Peter Wui.
Economists from the Federal Reserve Bank of St. Louis and the University of Arkansas provided an update on national and regional economic conditions as part of the Southern Arkansas Economic Development Briefing that was held on Oct. 18, 2016, at the University of Arkansas at Pine Bluff (UAPB).
The St. Louis Fed holds economic briefings throughout the year to provide communities in the Federal Reserve's Eighth District with information and resources, as well as to gain valuable regional insights and perspectives that help inform the analysis involved in monetary policymaking and related research.
Robert Hopkins, regional executive of the Little Rock Branch of the St. Louis Fed, and Laurence Alexander, University of Arkansas at Pine Bluff (UAPB) chancellor, hosted the briefing. The event started with two speakers and was followed by a panel discussion. Kevin Kliesen, business economist and officer in the St. Louis Fed Research division, spoke on national economic conditions and Michael Pakko, chief economist at the Institute for Economic Advancement at the University of Arkansas at Little Rock (UALR), gave a regional outlook.
The panel discussion was moderated by Carla Martin, UAPB vice chancellor for finance and administration, and included David Rankin, president emeritus of Southern Arkansas University; Chris Masingill, federal co-chairman of the Delta Regional Authority; and Peter Wui, UAPB associate professor of economics.
For the most recent information on economic conditions in the St. Louis Fed's Little Rock zone, see the latest Little Rock Burgundy Book, released on Sept. 27, 2016. Further information about the Arkansas economy can be found at www.arkansaseconomist.com, authored by UALR's Pakko.