2020 Homer Jones Memorial Lecture
March 4, 2020
St. Louis Fed President James Bullard welcomed attendees to the annual lecture and introduced this year's speaker, John Cochrane.
View text version of President Bullard's welcoming remarks.
John Cochrane, a senior fellow of the Hoover Institution at Stanford University, presented the 2020 Homer Jones Memorial Lecture on March 4. He spoke about rethinking monetary policy and independence.
Following the presentation, Cochrane conducted a Q&A session with the audience.
Read the article in the Federal Reserve Bank of St. Louis Review: Strategic Review and Beyond: Rethinking Monetary Policy and Independence.
Cochrane is known in part for the "Grumpy Economist" economic and public policy news and views blog, which he created and named after his children used that description for him "after one too many rants at the dinner table."
He's also known for his fiscal and monetary policy research: In addition to his Stanford position, Cochrane is a research associate of the National Bureau of Economic Research (NBER) and an adjunct scholar of the CATO Institute.
Photos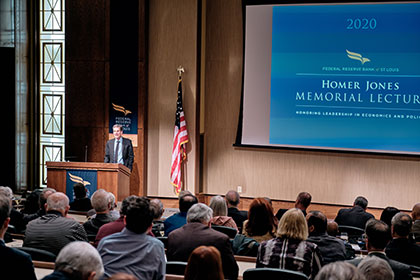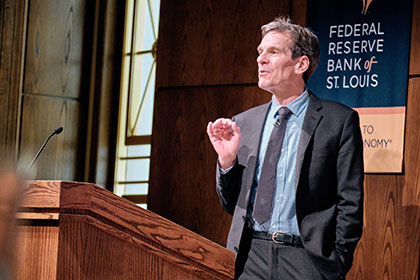 More about the Lecture Series
The St. Louis Fed's annual Homer Jones Memorial Lecture honors those who exemplify the highest qualities of leadership in economics and public policy. Jones (1906-1986), longtime research director at the St. Louis Fed, played a major role in developing the Bank as a leader in monetary research and statistics.