Meet K-9 Unit Teammates Freya and Her Handler Glenn
This post continues the series, "A Different Breed of Officer," featuring the St. Louis Fed's K-9 program and the dogs and handlers who dedicate their lives to keeping employees and visitors safe. For security or preference reasons, handlers' full names may or may not be used in this series.
Two words immediately come to mind when first seeing Freya. Despite the badge attached to her harness and fully uniformed Law Enforcement Senior Officer Glenn D. holding her leash, those words aren't: explosives detector. They're more like: absolutely adorable!
"My partner is this beautiful golden retriever," Officer Glenn D. says. "And trust me, she knows how pretty she is."
Looks aside, Freya is no show dog. She's one-half of a duo charged with keeping the Bank's people and premises safe. The other half, Officer Glenn D., has been with the Law Enforcement unit for more than five years. He worked in corrections before joining the St. Louis Fed. He's a longtime dog lover, first-time explosives detection dog handler.
Senior Law Enforcement Officer Glenn D. and K-9 Officer Freya are the Eighth Federal Reserve District's newest team of handlers and explosives detection dogs. Glenn D. has been with the St. Louis Fed for more than five years and Freya joined the Bank's Law Enforcement unit last year.
Officer Glenn D. and Freya have been working together since May 2022. They are the Eighth District's newest team of handlers and dogs. Two of the teams are based in St. Louis, with a third team at the St. Louis Fed's Memphis Branch. Freya, who is from Bogotá, Colombia, replaces Belgian Malinois Vera, who retired last year.
Freya's role is to use her training and keen sensory abilities to sniff out even the tiniest hint of an explosives threat at the Bank's St. Louis office and remote screening facility. Officer Glenn D.'s job is to keep Freya up on her training and enthused about her work to ensure her effectiveness. To do so involves plenty of playtime with dog toys whenever Freya's completed a training assignment or test.
I recently caught up with Officer Glenn D. to see how he likes his new role and partner.
What about being a canine handler appealed to you?
My running joke is, I get to play with explosives and dogs all day. And then I get paid for it. Where is the downside to any of this? I mean, seriously, I get to hang out with a dog all day. It's the coolest thing ever. I've been walking around like a goofball with a smile on my face because how do you beat this?
What's Freya's toy of choice?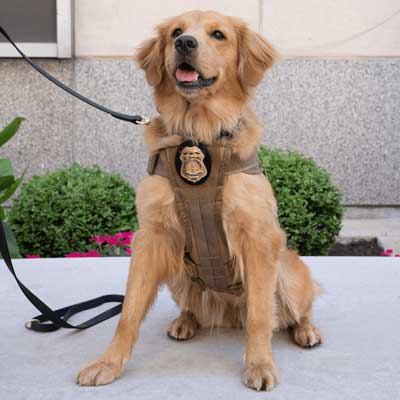 It's just a little ball on a rope. She loves it. But it's not all about the toy. Trainers tell handlers that you can't have a bad or ho-hum day. If you do, you have to hide it because your attitude flows down that leash. How you are is how your dog is. When your dog finds something in training or during a test, you can't just chuck the toy out there for them to play with. It has to be a party. The job has to be exciting. They go home to eat and sleep. They come to work to have fun. That reward helps them to be effective when searching for explosives.
Does Freya live with you?
Yeah, she comes home with me at night. My three dogs at home—I have a mutt and two German shepherds—are confused by Freya staying on a leash. She's not allowed to run wild with them. We live on a farm; they're farm dogs. And they're like, "OK, look, we want to go chase deer. Why isn't she allowed to do this?" And they give me dirty looks because they know it's probably my fault. But integration was super easy. My dogs are pretty accepting. I have to socialize Freya because she's going to be around other dogs. But I also have to keep her separate at times because she's not a pet. Under the Bank's view, she's an asset. And she's an officer with her own badge. But she's still a dog.
How has your family dealt with this addition?
That was a big thing. When I first thought of doing this, I talked with (law enforcement canine handlers) Mike and Dave. What's it really like? They said, "There will be times early on where you're going to spend more time with that dog than with your family. It's a lot of work." Before I put my name in the hat, I talked with my wife and daughter. Without hesitation, my wife said, "Not only do I think this is a good idea, but I also think this will be great for you. It will add a different aspect to your job. It's something you've talked about doing for years." My daughter just thought this was going to be the coolest thing, having a bomb dog at the house.
Why did you name her Freya?
I am a giant geek. I never wanted my dogs to have mundane names. When I was a kid, I had a dog named Thor because he feared thunder. I always went with mythology names. My co-workers told me that, in the past, all the (St. Louis Fed) dogs have two syllables in their name, and it ends with an A. I'd been reading a series of books. The Norse goddess of beauty and battle was Freya. And she was the queen of the Valkyrie. She was associated with gold and known as the golden huntress. The first picture I saw of Freya (the dog), I was like, if they let me name you, it's going to be Freya.
What's Freya like; what's her personality?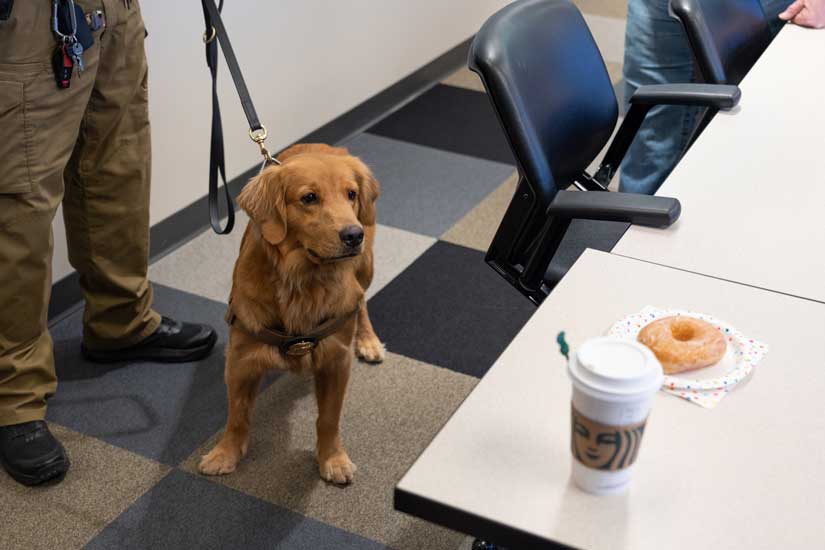 Vicious. Animal. Just killer. Nah, she's a marshmallow. She likes people. She's never met a stranger. The only way she's going to hurt you is if she drowns you in slobber from puppy kisses. She is not an angry-looking dog. She's a cuddle puppy. She's inquisitive. If you cut her loose in a new room, she wants to go to all corners and check everything out. If you're missing a ball, she'll find it.
If she has a leash on, in her mind, she's working. She'll start working a wall or sniffing a car without prompting from me. All these dogs have their little personalities. But Freya's 100% special. I'm a little biased. I'll admit it. But I'm not wrong.
This blog explains everyday economics, consumer topics and the Fed. It also spotlights the people and programs that make the St. Louis Fed central to America's economy. Views expressed are not necessarily those of the St. Louis Fed or Federal Reserve System.
---
Email Us