St. Louis Fed Explosive Detection Dog Vera Retires
This post continues the series, "A Different Breed of Officer," featuring the St. Louis Fed's K-9 program and the dogs and handlers who dedicate their lives to keeping employees and visitors safe.
Law Enforcement Officer Vera, a Belgian Malinois from Poland, had eight human years of service under her collar when she retired Aug. 31, 2022, but she had a lot more than that in dog years.
During that time, Vera safeguarded St. Louis Fed employees and property by sniffing thousands of vehicles entering the Bank's remote screening facility. She protected multiple Federal Reserve chairs and other Fed dignitaries by sweeping their hotels alongside her handler, Senior Law Enforcement Officer David Smith. She used her keen sense of smell and countless hours of training to seek out explosives.
Fortunately, Vera never came across a bomb in the wild. But if there had been one, she would have found it. She was good at her job, consistently and swiftly finding planted devices in training sessions and bomb-sniffing competitions where she was often ranked among the best dogs.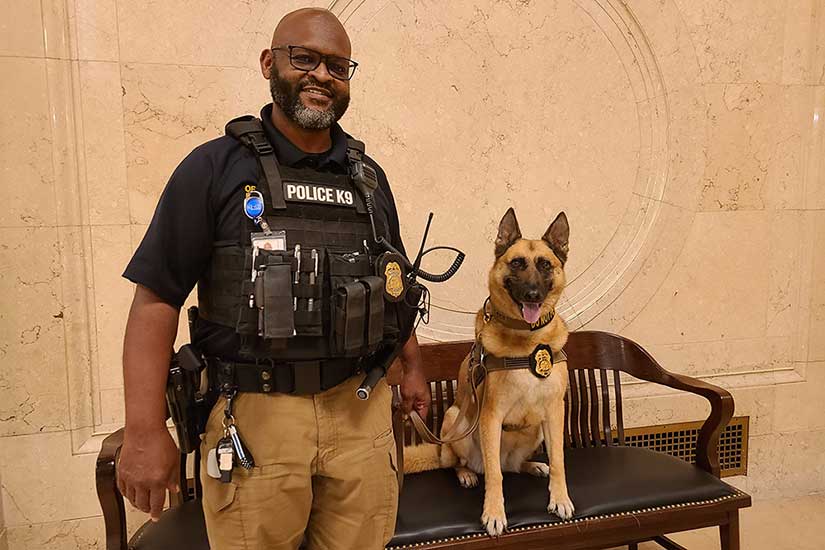 Senior Officer David Smith and Officer Vera pose on Vera's last day before the very good girl's Aug. 31, 2022, retirement. Smith and Vera worked together for eight years in the St. Louis Fed's K-9 unit.
Vera's also quite the charmer, having regularly enjoyed treats, pets, affectionate looks and even hugs from Bank co-workers while patrolling the St. Louis headquarters over the years.
Like most St. Louis Fed retirees, Vera's clearly going to miss the people the most (well, them and the treats). But she didn't exactly open up for an interview, instead opting to lie at her handler's feet until he was ready to walk around again. Not speaking a human language probably didn't help.
Fortunately, Smith was kind enough to talk on behalf of his partner about her retirement plans. He also discussed his future at the St. Louis Fed.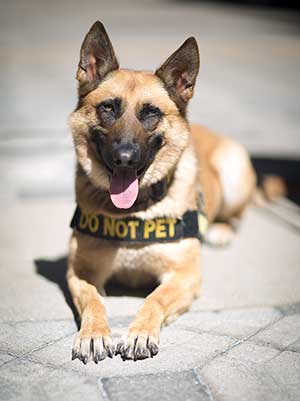 Q: How's Vera been as a co-worker?
David Smith: She's great. I love her to death. She's like my best friend. She listens very well. She loves people. Of course, she loves her ball, so she loves playtime when it comes around. She loves getting treats from everybody. If you have treats, when I came to your office, before she'd go anywhere else in this area, she's coming to you first. She's so smart, she's really loving. She's probably one of the best and greatest dogs that I've ever had.
Q: How has she handled not coming to the office on a regular basis anymore?
Smith: Before, when she realized it was a workday, she'd get up and wait by the door. When I left for work that first day without her, that was something new for us both. My gameplan for when I get off work is I go home, change clothes, get her, take her for a ride in my truck and take her to the park to run around. I want to make sure she gets attention because she's used to that, especially when she came to work.
Q: Do you have retirement plans for Vera?
Smith: With Vera working, we weren't allowed to take her on vacation. I would have to put her in a kennel. So, for Vera's retirement plans, she can join us when we go on vacation. We go to Florida like every year. I'm sure she would enjoy that trip.
Q: What about you? What's next for you in terms of your role at the Bank?
Smith: Well, I'll be transitioning back with the regular staff. I'll probably join the staff advisory board. I'll try to transition into the executive protection duties when that comes up. And I'll just kind of see where I go from there. I'm 60 years old, so I'm pretty sure I'll be retiring in five years anyway.
This blog explains everyday economics, consumer topics and the Fed. It also spotlights the people and programs that make the St. Louis Fed central to America's economy. Views expressed are not necessarily those of the St. Louis Fed or Federal Reserve System.
---
Email Us