We Are Central Profile: Meet Desiree Coleman-Fry
At the St. Louis Fed, new chapters are being written in our story every day by employees in every division, department and unit. Our We Are Central profile series introduces you to people who help make the Bank central to the nation's economy.
---
Just a few months into her job as the vice president of Diversity, Equity and Inclusion at the Federal Reserve Bank of St. Louis, Desiree Coleman-Fry has hit the ground running. I sat down with Coleman-Fry, who also serves as the St. Louis Fed's Office of Minority and Women Inclusion (OMWI) officer, to learn about her background, why it's important for the St. Louis Fed to focus on diversity, equity and inclusion, and why she believes each employee can help set the right tone as a "culture keeper."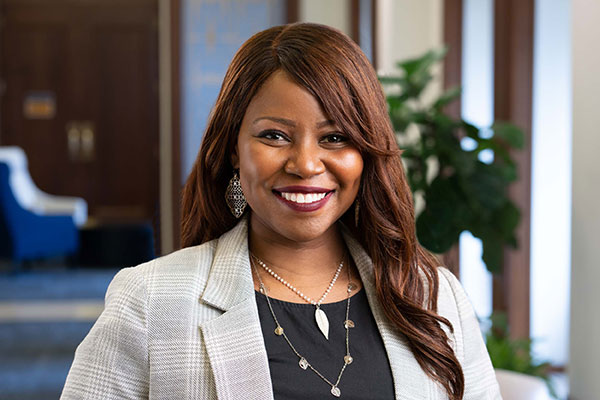 Could you tell us about your career journey prior to joining the St. Louis Fed last fall?
Advancing equity and empowering women have been key themes of my career. I started my career in Washington, D.C., in a management training program with local government. During my years there, I did constituent outreach for the mayor, implemented a federal grant and collaborated with nonprofit organizations to support under-resourced communities. It was deeply meaningful work.
Then, I moved back to St. Louis and took a job at United Way, which allowed me to connect with stakeholders across business, industry and community groups in St. Louis.
That led to an opportunity at Wells Fargo Advisors to lead the Missouri Community Relations and grantmaking function. My most recent role was with Wells Fargo Bank as senior vice president of Diverse Customer Segments. I was responsible for building an enterprise-wide, cross line-of-business framework that prioritized the financial needs of Black, Asian and Hispanic/Latino affluent customers.
Why is diversity, equity and inclusion essential for the St. Louis Fed to focus on?
Consistent with our vision of challenging prevailing views to drive change, it's important that every leader understands that diversity, equity and inclusion are the responsibility of all of us in the Eighth Federal Reserve District.The St. Louis Fed serves the Eighth Federal Reserve District, which includes all of Arkansas and parts of Illinois, Indiana, Kentucky, Mississippi, Missouri and Tennessee. While there is a moral imperative that compels us to consider how we can foster empathy, understanding and belonging for every employee, there is also a business imperative.
The ability to lead diverse teams that represent a plethora of viewpoints, experiences and ideals is the new normal and is a foundational 21st century leadership skill. The multiethnic, intergenerational teams that the next decade will bring will require all employees to possess the skills to lead inclusively.
For example, the Pew Research Center reported in 2018 that millennials (those born from 1981-1996) are the most represented group in the workforce. With 35% of American workers being millennials, a leader's approach must evolve to include the unique perspectives of the generation.
Likewise, the U.S. Census Bureau has projected (PDF) that, by the year 2045, the U.S. will be majority diverse. This will require leaders to hone their ability to engage and inspire teams with a wide range of life experiences. Thus, DEI is a strategic imperative because, to remain a preferred employer, we must enhance our ability to recruit and retain diverse talent.
How would you answer a St. Louis Fed employee who asks, "What can I personally do to support this effort and make the Bank a more inclusive workplace?"
I believe that each employee in the Eighth District is a "culture keeper," so, ultimately, we all set the tone. One way St. Louis Fed employees can foster an inclusive workplace is to speak up when they notice that someone was not invited to a meeting or when a key stakeholder's voice is not being heard in a group discussion. That may look like saying, "I would really love to hear what 'Kim' has to say. Kim, would you please share your thoughts."
Employees can foster inclusion by educating themselves on the experiences of various communities from a race, gender, class, disability, gender expression or sexual orientation perspective. This may include consuming books, podcasts, articles, TED talks, etc. to learn and understand more. The culture at the St. Louis Fed is ultimately the responsibility of us all, so let's use our voice and our relationships to foster positive change.
Finally, we'd love to know a little about you personally. Where did you grow up? Tell us about your family, hobbies and interests outside of work.
In my book, family comes first, so I'll start by sharing that I have four children and an amazing husband. I'm from St. Louis. I attended the University of Missouri-Columbia for undergrad, so I root for the Mizzou Tigers during football season. However, during basketball season I root for Syracuse University, where I went to graduate school.
Personally, I'm passionate about helping others, and I serve on the boards of directors of the Danforth Plant Science Center and Loyola Academy. I love to read (I'm usually rotating one uplifting book and one social justice-focused book), and consuming books on Audible is my favorite. Finally, my faith community is multiethnic, multiracial and intergenerational, and I find it to be a grounding and empowering force in my life.
Note
The St. Louis Fed serves the Eighth Federal Reserve District, which includes all of Arkansas and parts of Illinois, Indiana, Kentucky, Mississippi, Missouri and Tennessee.
This blog explains everyday economics, consumer topics and the Fed. It also spotlights the people and programs that make the St. Louis Fed central to America's economy. Views expressed are not necessarily those of the St. Louis Fed or Federal Reserve System.
---
Email Us