Young Adults Cope with COVID-19's Economic Impact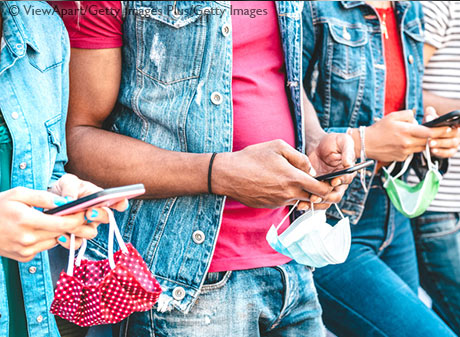 From lost opportunities to altered college experiences, the recession brought about by the COVID-19 pandemic has been particularly difficult for adult members of Generation Z and younger millennials.
As the one-year anniversary of the first economic shutdowns approaches, data show how young people in the U.S. changed their living situations and plans.
Recent articles highlighted three trends:
Younger workers suffered higher percentages of job losses than older workers in the early months of the pandemic but had employment shortfalls closer to those of older workers by December.
A majority of young adults lived with a parent as of July.
Undergraduate college enrollment declined, especially among first-time undergraduates, who are typically young adults.
1. Younger workers have been harder hit by job losses
Certain demographic groups in the U.S.—including younger workers—had relatively larger employment losses in the early months of the pandemic, according to a recent Liberty Street Economics blog post by Jaison R. Abel and Richard Deitz of the Federal Reserve Bank of New York. But younger workers' employment shortfall narrowed to within a couple of percentage points of the other groups' as of December. (See the table.)
Younger Workers' Employment Shortfall Shrank by December
Job Decline from February to April 2020
Shortfall as of December 2020
Workers aged 18-29
-24%
-6%
Workers aged 30-49
-12%
-4%
Workers aged 50 and older
-13%
-5%
NOTE: This table is adapted from the last figure in "Some Workers Have Been Hit Much Harder than Others by the Pandemic," a Liberty Street Economics blog post by Jaison Abel and Richard Deitz published Feb. 9, 2021. Original sources: IPUMS-CPS and IPUMS-USA, University of Minnesota, www.ipums.org.
"The pandemic has been quite challenging for younger workers (those under 30), with initial job losses nearly twice as large as mid-career (those aged 30 to 49) and older workers (those 50 and over)," Abel and Deitz wrote.
The 18-29 age group in 2020 would have included the Generation Z adults who were born in the late 1990s or early 2000s, and the millennials who were born in the early to mid-1990s, according to Pew Research Center definitions.
Why were younger workers most affected early in the pandemic? Abel and Deitz explained that these workers may be overrepresented in leisure and hospitality as well as retail, which are the two industries that were hit hardest.
The authors noted that the job market began to weaken again in late 2020 as the virus surged, and many of the most vulnerable workers may have again borne the brunt.
2. A majority of those aged 18-29 lived with a parent as of last summer
Job loss is usually associated with reductions in spending, as Kris Bertelsen noted in a recent Page One Economics essay. Reducing housing costs has become a major issue for many young people, since young adults have been especially affected by job loss during the pandemic, wrote Bertelsen, a senior economic education specialist at the St. Louis Fed's Little Rock Branch.
He cited an analysis from the Pew Research Center that showed 52% of adults aged 18-29 lived with at least one parent in July, an increase from 47% last February, before pandemic shutdowns. That's also a larger share than the previous high (based on available data) of 48% in 1940.
The number of adults aged 18-29 who lived with their parents increased by 2.6 million from February to July of last year. Those aged 18-24 accounted for 2.1 million of that increase, according to the Pew analysis, which was authored by Richard Fry, Jeffrey S. Passel and D'Vera Cohn.
The Pew authors added that the share of young adults living with their parents tends to go up in the summer, but it went up more than usual last year. The share among those aged 18-29 rose by less than 2 percentage points from February to July 2019, while it rose by more than 5 percentage points over the same period in 2020.
Some Benefits and Costs of Living at Home
There are benefits to adult children living with their parents. Among them: children can save up for a major purchase, and parents can get help with household tasks, author Kris Bertelsen noted in a recent Page One Economics essay.
But he also said that living at home is not free for the children or their families. Some examples:
Explicit costs
Higher grocery expenses
Bigger utility bills
Implicit costs
The opportunity cost for parents of helping their children financially, like consuming less or delaying retirement
Possible loss of freedom and autonomy for adult children
For more, read the essay: "Coping With COVID: Crises, Young People's Housing Choices, and Preparing in Uncertainty."
3. The pandemic has affected college enrollment
The pandemic and consequent recession also appear to have affected college attendance, as discussed in a recent On the Economy blog post by Oksana Leukhina, a research officer and economist at the St. Louis Fed, and Devin Werner, a research associate.
The authors noted that total college enrollment declined by nearly 3% in the fall of 2020. "This is especially noteworthy because, in a typical recession, enrollment tends to rise as job prospects (and, consequently, the opportunity costs of college) fall," they wrote.
College Enrollment in the Fall of 2020
First-time undergraduates: -13.1%
Returning undergraduates: -1.6%
Graduate students: +3.6%
The overall decline is mostly due to the sharp decline in incoming freshmen, they found. (See the box.)
The authors explained that enrollment among first-time undergraduates declined because the perceived benefits of college shrank at the same time the relative costs of college grew: The "college experience" and the value of in-person learning decreased with classes moving online, while expensive tuition became more of a concern at a time of widespread financial uncertainty.
On the other hand, grad school enrollment increased, which is typical when there is a bad job market, the authors said. They also pointed out that the unemployment rate among young people with bachelor's degrees "skyrocketed" last summer, which many in the class of 2020 likely anticipated.
So, it appears that some college graduates have postponed entry into the labor market, while some high school seniors have postponed entry into college, as the authors noted. They concluded by posing some questions regarding the future, including:
How will enrollment trends change as the pandemic changes?
Will the delays in college enrollment among the high school class of 2020 have long-term effects on educational and career outcomes for those students?
What will the long-term effects be from the surge in graduate school enrollment?
"These are important questions to keep in mind as society plans for the months and years ahead," they wrote.
More to Explore
This blog explains everyday economics, consumer topics and the Fed. It also spotlights the people and programs that make the St. Louis Fed central to America's economy. Views expressed are not necessarily those of the St. Louis Fed or Federal Reserve System.
---
Email Us