Why Eviction Matters: Consequences for Individuals and Families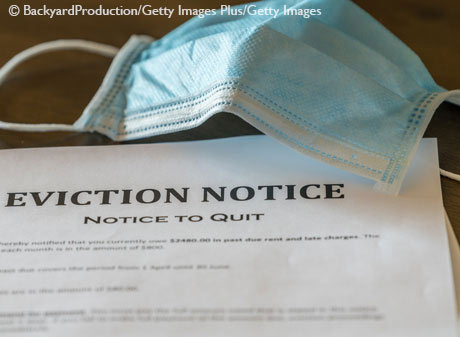 The Centers for Disease Control and Prevention extended a federal eviction moratorium through the end of March 2021, Editor's Note: Effective April 1, after this blog post was published, the CDC further extended its eviction moratorium order through June 30. allowing millions of Americans to remain safely housed during the pandemic.
The expiration date looms for the moratorium, which has been a critical tool in preventing an eviction crisis, but still left tenants facing challenges: protections were not automatic, landlords were able to evict for reasons other than nonpayment, and a declaration page had to be signed by the renter, according to the National Low Income Housing Coalition. Thousands of evictions have occurred without consequences for landlords because no federal agency has been enforcing the moratorium penalties for unlawful evictions, according to the coalition.
An eviction moratorium does not cancel rent. Tenants are responsible for past-due rent payments and are still waiting for much of the $25 billion in assistance that Congress appropriated in December. The recently passed $1.9 trillion relief package includes $21.6 billion for emergency rental assistance and funding for housing stability for tens of thousands experiencing or at risk of homelessness. This aid could go a long way in helping to provide rental and utility assistance to those in arrears, to landlords who are owed money and to those experiencing homelessness.
Researchers at the Federal Reserve Bank of Philadelphia estimated that 5.4% of all renter households would owe $11 billion in back rent in March 2021, or about $6,100 for each of 1.8 million renter households.
Disparities in housing affordability have been exacerbated by the COVID-19 pandemic. The Harvard Joint Center for Housing Studies found that Black and Hispanic renter households were twice as likely as white renter households to be behind on housing payments and to report being at risk of eviction.
Renter households of color, already challenged with higher housing cost burdens, have suffered the most from the financial fallout of the COVID-19 pandemic. Over half of Black and Hispanic renter households were cost-burdened entering the pandemic, compared with 42% of Asian and white households, the Joint Center for Housing noted in the report, "The State of the Nation's Housing 2020."
A household is cost-burdened if more than 30% of the household's adjusted gross income is used for rent and utilities, according to a U.S. Department of Housing and Urban Development definition.
Eviction Can Have Long-Term Consequences
When a family is evicted, family members are often plunged into a downward spiral that may have long and devastating consequences, as outlined in a Q&A on Eviction Lab's website. Children may have to switch schools, personal belongings can be lost or put into storage, which could result in additional fees, etc.
When low-income renters lose their homes, they have few options. They may have to move in with family or friends, leading to overcrowded conditions and making it difficult to socially distance or self-quarantine if they are exposed to COVID-19.
A legal eviction comes with a court record, which can further impede a family's ability to secure housing, because most landlords conduct eviction screenings before renting, according to Eviction Lab, a research organization at Princeton University. This frequently leads to families moving to poorer neighborhoods and living in housing that is considered substandard.
Research has shown that mental health is also impacted. One study of mothers showed they suffer from higher rates of depression up to two years after being evicted. Low-income women, especially women of color, victims of domestic violence and families with children face a higher risk of eviction.
Affordable housing has been and continues to be an enduring challenge. Even with short-term solutions like emergency rental assistance, evidence suggests an eviction crisis could be on the horizon. To prevent it, interventions that address root causes of housing instability may be warranted.
1 Editor's Note: Effective April 1, after this blog post was published, the CDC further extended its eviction moratorium order through June 30.
This blog explains everyday economics, consumer topics and the Fed. It also spotlights the people and programs that make the St. Louis Fed central to America's economy. Views expressed are not necessarily those of the St. Louis Fed or Federal Reserve System.
---
Email Us