This month brings the observation of National K-9 Veterans Day (March 13). This post is the fifth in an ongoing series, "A Different Breed of Officer," featuring the St. Louis Fed's K-9 program. We are profiling the dogs and handlers who dedicate their lives to keeping employees and visitors safe. For security reasons, names are not used.
By Christine Smith, Public Affairs Staff
Visitors to the St. Louis Fed's Memphis Branch may get to see our K-9 handler and his dog helping to safeguard the facility. The two are quite a pair: A sturdy man with a deep voice. A small Dutch shepherd that's a ball of energy.
We spoke with our Law Enforcement colleague and his canine partner—code name: "Officer P"—to hear their story and what it's like to protect the Fed.
Did you grow up around dogs?
I like to joke that I went into the law enforcement and security field because I didn't want to be a farmer. I'm originally from central Mississippi. Growing up, we raised hunting dogs, rabbit dogs and bird dogs. I grew up on a lot of land, so we had plenty of space. I had previously worked with Rottweilers, bloodhounds and pit bulls.
When I found out that the St. Louis Fed would be starting a K-9 program, I immediately threw my name in the hat. I was lucky enough to be chosen.
What surprised you most about your K-9 partner?
My partner got here at the end of 2017. Both her size and her personality shocked me. I was expecting a much bigger dog. When I first met her, I arrived in Michigan for training; I arrived on a Sunday and didn't meet her until Monday. And they came out with this little-bitty dog! I was like, "That's not the dog from the picture!"
She is tiny, but she has a huge personality. She's a giant ham. That shocked me. During presentations that our Economic Education team gives to visitors, they'll ask me about her. I explain that she is here to protect the Fed in many ways, including ensuring that no explosive devices enter the building. She ensures we keep the Bank and employees safe. Then, of course, it devolves into a conversation about her (chuckles).
How would you describe the bond you have?
The five weeks that we spent in training were basically us acclimating to each other and breaking the stubborn streak that she has. It was all about having her know, "I'm the person you're going to listen to." Obedience is an everyday thing. Within a few weeks, she tolerated me, and I'd say within the last six to eight months she has become glued to my side.
I've had dogs that love me. I've never had a dog that has fits when I leave her. As we are talking right now, she keeps trying to grab my arm to have me pet her.
What is her personality like?
Although these dogs are loyal, they are not like your pets. They're only really happy when they're working. My K-9 partner knows when work is over, and she also knows when she's not going to work—and she doesn't like it. If I come outside in basketball shorts and a T-shirt, she is bummed. But if I come out in my uniform, she starts doing backflips in the kennel and is like, "Let's go!"
She's high-strung, she likes to run and she will get in her kennel and do backflips. Her kennel has a metal roof, and she will run up the sides, brace her feet and then flip completely and do it again.
Every week, I have to buy a 22-pound bag of food. Her metabolism is incredible. She's just a ball of energy, and she's not happy unless she's working.
What do you enjoy about working in this vital role?
The time I get to spend with Officer P. I love her. She's unlike any dog I've ever worked with before. It has made work not such a hassle—well, when she's good. When she's hard-headed I wonder, "Why did I ever get into this?" But then she'll come put her nose under my arm, stick her head in my elbow and force her way into a hug.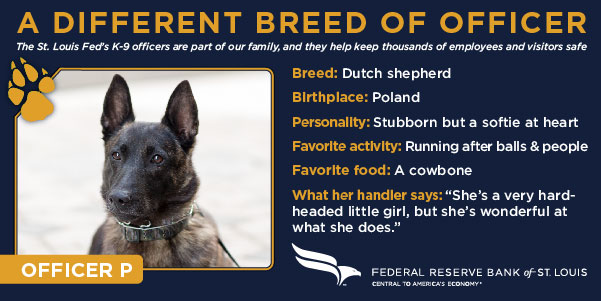 ---
Additional Resources