Managing Up: Tips to Use at Work Today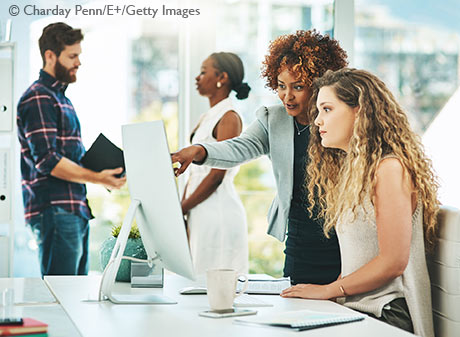 As a human resources professional, I've observed that people often come seeking advice on how to be successful in an organization. They want tips on how to navigate the culture. They seek best practices on communicating with their boss and team.
Some sage career advice is often to "manage up" in your organization. What does "managing up" mean? It means being the most effective employee you can be, creating value for your boss and your company. Building a healthy working relationship begins and ends with doing your job well.
At the St. Louis Fed, we value relationships and initiative in the workplace. Managing up requires both of those skills in action. There is no prescription, as it becomes more of an art than a science. But doing it well can mean the difference between success and stagnation.
Here are some tips on how to manage up in your organization.
1. Communicate.
The ability to communicate well is essential to success. (This includes verbal and written communications.) Communicate decisions you make that will impact the team. Sometimes, even small decisions can have a ripple effect. Taking charge of your workload and opening the lines of communication with your boss will only help you.
2. Recognize that not all surprises are good.
Inform your boss of what's happening on a regular basis. You don't want your supervisor stopped in the cafeteria, questioned by another leader about what is going on, and have this be the first time the boss is hearing about it.
3. Take ownership of what happened and bring a solution.
If something arises, let your manager know—but make sure you provide solutions, not just problems. Trying to cover up problems or failures, or "minimizing" to sweep things under the rug, will only hurt you and the work you are doing.
4. Don't assume.
That includes not assuming what your boss expects. It means not assuming your manager's preferences or priorities. You need to ask. Understanding a manager's perspective and agenda will allow you to align your priorities.
5. Sharpen your EQ skills.
By demonstrating self-awareness, you can recognize:
Your own strengths, weaknesses, goals and personal needs.
How you respond to being managed.
How others respond to you.
This can help you avoid potential misunderstandings and miscommunication. Practice navigating and influencing people who approach work differently than you do. Learn how to look beyond your own needs and perspectives and consider the needs and perspectives of others.
6. Get to know your boss.
Leverage their strengths and compensate for their weaknesses. Understand their hot buttons and triggers. You will know where and when you can fill in the gaps.
7. Understand that feedback is a gift.
Accept the feedback you receive, seek it out often and use it to keep refining your skills. Don't wait until your annual review. Don't be afraid to give feedback to your boss; improving the relationship is a two-way street.
8. Think about the long game.
Don't worry about collecting accolades for every little thing you do. Focus on making your boss and your team look good, and you will look good as well.
9. Don't go over your manager's head.
This can permanently damage the relationship you worked so hard to build.
---
Additional Resources
This blog explains everyday economics, consumer topics and the Fed. It also spotlights the people and programs that make the St. Louis Fed central to America's economy. Views expressed are not necessarily those of the St. Louis Fed or Federal Reserve System.
---
Email Us