By Maria Hasenstab, Public Affairs Staff
"Good little boys and girls are not the only ones anxiously awaiting Christmas this year. Retailers are also looking forward to the yuletide with more than ordinary apprehension."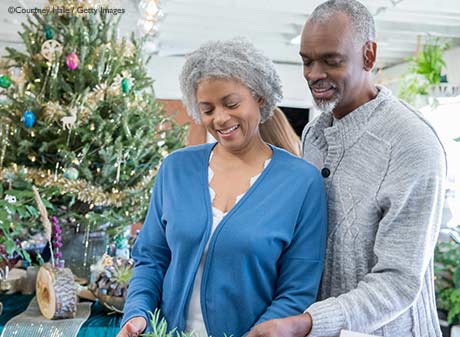 So began "Santa and the Grinch" on Dec. 17, 1982, part of the weekly Economic Letter from the San Francisco Federal Reserve.
Although that letter was written as the U.S. economy was coming off a second recession in three years, the anticipation of year-end retail sales remains a staple of the season yet today. The National Retail Federation (NRF), for example, has an entire "Winter Holidays" package of surveys, forecasts and trends.
What about sales for 2019? In its forecast, the NRF predicted holiday retail sales during November and December would increase between 3.8% and 4.2% over last year, to a total of between $727.9 billion and $730.7 billion. Those sales include both store and online purchases but exclude auto dealers, gas stations and restaurants.
Trade associations and others who track such data might raise a glass of egg nog, since that predicted holiday sales increase is higher than the average increase, 3.7%, of the previous five years. For purposes of comparison, the NRF defines the "holiday season" as Nov. 1 through Dec. 31.
Economic Conditions and Holiday Sales
Late 1982 was an especially edgy time for retailers, since a recent tax cut and a Social Security cost-of-living adjustment had not boosted consumption spending as most economists had predicted, San Francisco's letter said.
It also discussed how unemployment was the "highest in 42 years," going on to say it was casting "a pall over consumer confidence." The unemployment rate was 10.8% in December 1982, when looking at seasonally adjusted unemployment data available today.
Today's 3.5% unemployment rate (as of November, also seen in September) is a 50-year low. But other concerns exist; in particular, the NRF cited the potential impact of tariffs on holiday spending—whether through price increases or on consumer confidence—and noted that retailers were trying to mitigate the impact.
"Nonetheless, 79 percent of consumers surveyed for NRF in September were concerned that tariffs will cause prices to rise, potentially affecting their approach to shopping," the federation reported.
As a mother, aunt and general consumer, I'm weighing my budget and the perfect present to give. My conundrum: I want to steer clear of being a Scrooge but also don't want my dreams of a white Christmas to be clouded by spending in the red.
Spending Trends: Then & Now
Planned Consumer Spending
This year, the NRF's annual survey, a companion to its retail forecast, showed consumers planning to spend a total of about $1,048 on average for items such as decorations, candy and gifts, along with other purchases for themselves and their families.
That's 4% higher than the 2018 spending plans, when the average consumer planned to spend about $1,007 on the same items. While the NRF's annual spending survey does not go back to 1982, the first year the NRF released annual survey statistics (2004), the average consumer planned to spend $789.
Holiday Sales Volume
The San Francisco Fed letter noted that most kinds of merchants enjoyed an increase in sales volume in the combined November and December selling period, but for some, the difference may have been more significant—amounting to as much as one-third of yearly sales.
Today, the NRF said sales in November and December represent about 20% of annual retail sales each year. Hobby, toy and game stores report the highest share at about 30%. Last week's blog post featuring holiday data from the St. Louis Fed shows a discernible spike in hobby, toy and game sales every December, using Census Bureau data.
Popular Toys and Gifts
According to the NRF survey, top toys to stuff stockings in 2019 include dolls, cars and trucks, video games and accessories. Meanwhile, the commercial breaks of holiday specials are filled with brands like Disney princesses, Paw Patrol, American Girl and Marvel action figures.
And what's old is new again, as "Star Wars" and My Little Pony—staples of the early 1980s—also make the NRF's list of top toys on shoppers' holiday lists.
What's the No. 1 item on the wish lists of adult consumers surveyed by the NRF? For the 13th year in a row, gift cards remain the most popular item, requested by 59% of respondents. Other wished-for items include:
Clothing and accessories – 52%
Books and other media – 35%
Electronics – 29%
Home décor – 24%
---
Additional Resources