We Are Central Profile: Meet Terrance Gaddy
At the St. Louis Fed, new chapters are being written in our story every day by employees in every division, department and unit. Our We Are Central profile series will introduce you to some of those employees who help make our Bank central. The following is a profile of Terrance Gaddy, a learning technology designer in our Center for Learning Innovation.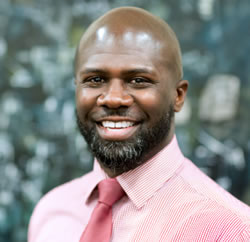 Terrance joined the Bank in 2015 after working as a teacher and then principal in Illinois schools. He has bachelor's and master's degrees in special education from Southern Illinois University Edwardsville and a master's degree in curriculum and instruction from Southern Illinois University Carbondale.
Why did you decide to work for the Federal Reserve?
I started out at the Bank as an instructional design intern during the summer of 2015. After a month or so, I felt as if I was auditioning for a position as an instructional designer. I thought if an opportunity to work at the Federal Reserve presented itself, I shouldn't pass it up. I got an offer in August 2015, so I guess I was a fit!
Originally, I was seeking an opportunity to grow as an instructional designer. I thought an internship would be a great practical application of my developing skills, but when I got here, I thought, "Wow, this is a really cool place." Once I began working in the Center for Learning Innovation and got a feel for how they function, I soon realized I really didn't know how much went on at the Fed.
What are your key responsibilities at the Bank?
I'm the newest instructional designer on our CBO ECP (Community Banking Organization Examiner Commissioning Program) team. I maintain and enhance the Examiner-in-Charge Learning Unit, which is one of the capstone courses for learners in the examiner commissioning program. Completion of this course provides examiners the expertise to serve as an examiner in charge during a community bank exam.
As a team, we secure feedback from examiners regarding what they think is most effective in the course. We also review data and converse within our team about the types of enhancements we can make so that examiners in the field can have a real-world experience through our curriculum. We also apply adult learning principles to ensure we respect the time we're asking of our learners, while providing them with a valuable experience.
What do you enjoy most about being central in your role?
I enjoy solving business problems through conversations. We do some pretty awesome things for our learners. In the CBO and Center learning space, everyone is allowed the opportunity to add value. No one is expected to know everything; however, through collaboration and communication, we demonstrate our expertise, build and strengthen partnerships, do good work, and take on any challenge. I like it!
Finding business solutions in ambiguity presents a huge opportunity for growth and development.
What do you enjoy outside the Bank?
I enjoy playing chess. I like the strategy and critical thinking that goes into calculating your next several moves, but also the competitive aspect. That's something I really enjoy in a nerdy kind of way.
Additional Resources
This blog explains everyday economics, explores consumer topics and answers Fed FAQs. It also spotlights the people and programs that make the St. Louis Fed central to America's economy. Views expressed are not necessarily those of the St. Louis Fed or Federal Reserve System.
---
Email Us