Mizzou, Illinois Econ Students Compete for Bragging Rights
The longstanding rivalry between Missouri and Illinois is being played out in a new arena: The U.S.'s macroeconomic future.
As a new semester got underway in January, more than 850 economics students at the University of Missouri in Columbia, Mo., and the University of Illinois in Urbana-Champaign, Ill., began competing in the St. Louis Fed's FREDcast.™
This free fantasy sports-styled game allows players to forecast economic variables and track their accuracy via scoreboards online. The best part? Competing for bragging rights.
Forecasting Four Kinds of Data
As FREDcast players, the students are tracking four economic predictions for February:
Real gross domestic product (GDP) growth: GDP is the total market value, expressed in dollars, of all final goods and services produced in an economy in a given year.
Civilian unemployment rate: This measures the percentage of the labor force that is willing and able to work, does not currently have a job and is actively looking for employment.
Payroll jobs: This helps to gauge employment; it represents the number of non-farm, paycheck-earning jobs the economy gains or loses in a given month.
Consumer price index: This is a measure of the average change over time in the prices paid by urban consumers for a market basket of consumer goods and services.
When the actual values are released by the Bureau of Economic Analysis and Bureau of Labor Statistics, the FREDcast game will measure forecast accuracy and then award points to each player while automatically updating player standings.
Matching Wits
Mizzou economics professor Myoung Lee imported FREDcast into her macroeconomics course syllabus last fall after attending a summer economic education conference at the St. Louis Fed.
Lee was already familiar with FRED, short for Federal Reserve Economic Data. The St. Louis Fed's Research department maintains this database of more than 500,000 economic series. It combines data with a powerful mix of tools that help people understand, interact with and share information.
Lee invited me and Senior Specialist Yvetta Fortova to Mizzou last fall to show students and faculty how to get the most out of the data tool.
The competition with Illinois took flight when U of I economics professor Joseph Petry attended the St. Louis Fed's Professors Conference in November. Captivated by FREDcast and faced with the knowledge that the game already had a foothold at Mizzou, Petry wasted no time in issuing a challenge to his cross-river rival: His Econ 203 classes would match wits with Lee's Intro to Macroeconomics students in a private FREDcast league.
Roots of a Friendly Rivalry
Inspired by the schools' 30-plus years of Braggin' Rights basketball showdowns in the Gateway City, the professors soon hit on terms for their own trophy. Petry erased any competitive disadvantage by likewise bringing Fortova and me to his campus to share FRED knowledge with students.
Spurred by their professors' competitive spirit, students at both universities flocked to the new league, adopting player names displaying school affiliation.
Because a FREDcast league can welcome new players at any time, Petry invited additional U of I economics sections to join the league. The number of league players is expected to near 2,000 by the end of February.
The winning school will be revealed at semester's end.
Updated May 3, 2018: The University of Illinois earned this semester's traveling trophy in a friendly competition with Mizzou.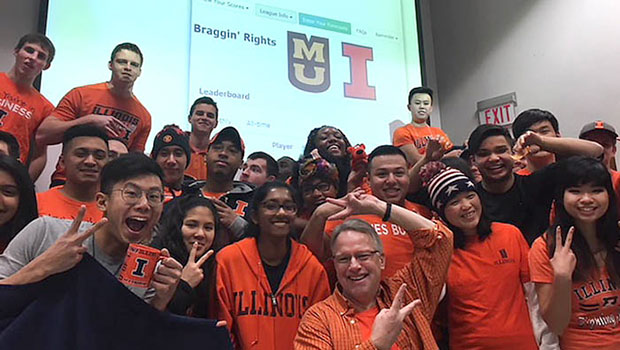 ---
Additional Resources
This blog explains everyday economics, consumer topics and the Fed. It also spotlights the people and programs that make the St. Louis Fed central to America's economy. Views expressed are not necessarily those of the St. Louis Fed or Federal Reserve System.
---
Email Us