By Maria Hasenstab, Public Affairs Staff
Even on summer vacation, members of the St. Louis Fed's Economic Education team are thinking about the school year and their mission to provide high-quality resources and professional development to improve economic education around the world.
"A Teacher at Heart" Reaches Students in Haiti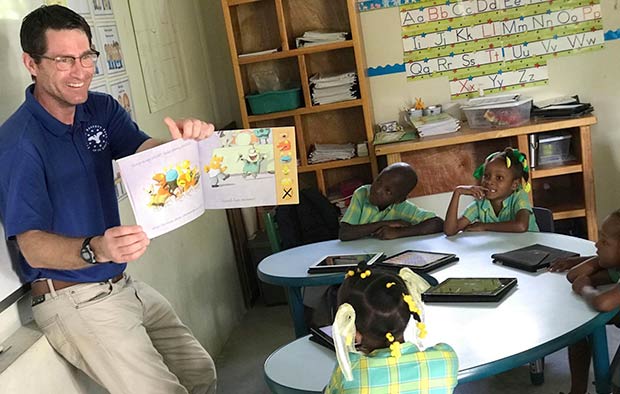 Senior Economic Education Specialist Kris Bertelsen didn't let geography, culture or even language barriers prevent him from recently teaching a lesson at a school in Haiti.
In May, Bertelsen visited the Jean Alexis Kuislin Christian Academy, where he read Monster Musical Chairs to about 20 kindergarten and first grade students. He gifted the book to the teacher.
Bertelsen joined his fiancée, Mary Berg, a doctor from Sioux Falls, S.D., when she visited Haiti to interview physicians to staff a nonprofit medical clinic. He saw the opportunity to visit another part of the world where "you cannot imagine the poverty," he said, somberly.
He also wanted to teach lessons and spread the important message of economic education. "In a country with such limited opportunities, the kids have to invest in themselves through education," he said. "It's one of the only ways up — through education."
Bertelsen visited several classrooms at the school, giving each teacher a St. Louis Fed care package, including a book, planner and other economic education materials.
"They were very appreciative, because they want to speak English," he said. "They speak Haitian Creole, and to build their human capital, they need to speak English and/or French, so they really want to practice their English."
Bertelsen has worked at the St. Louis Fed's Little Rock Branch for seven years. Prior to that, he taught high school economics, AP economics and U.S. history.
"I'm a teacher at heart," Bertelsen said. "I like to seek kids and help teachers, whenever I can."
Ahola to Educators in Hawaii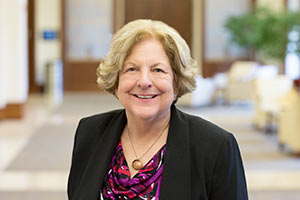 Bertelsen isn't the only member of the Econ Ed staff who sacrificed summer fun for an opportunity to spread economic education.
Mary Suiter, an assistant vice president and economic education officer at the St. Louis Fed, dedicated two days of her family vacation in Hawaii to teaching professional development with the Hawaii Department of Education in Oahu.
"It's really important for these teachers to have economic education training," Suiter said.
Suiter taught a similar program at the Hawaii DOE last summer with educational consultant Gail Tamaribuchi. "It was a success, so I knew I wanted to do it again," she said. "I've worked with Gail a lot and enjoy working with her."
They spent one day teaching elementary teachers Econ Lowdown lessons including:
The pair spent the second day leading lessons with high school teachers on Making Personal Finance Decisions.
The educators received professional development credit from the Hawaii Department of Education.
---
Additional Resources
The St. Louis Fed's Econ Lowdown offers more than 400 lesson plans, podcasts, videos, readings, PowerPoint slides and SMARTboard activities that can be used in pre-K through college classrooms to teach economics and personal finance.