The Pandemic's Impact on Immigrant Labor
The onset of COVID-19 created a huge shock for the entire labor force, but immigrant labor was particularly hit hard, according to an analysis by the St. Louis Fed.
In a May 2022 Regional Economist article, economist and Research Officer Subhayu Bandyopadhyay and Research Associate Praew Grittayaphong noted that data from Pew Research Center found that pandemic-related disruptions caused the unemployment rate for foreign-born workers to rise to 15.3% in the second quarter of 2020, up from 4% in the first quarter of 2019. In the same period, the unemployment rate for native-born workers, by comparison, increased to 12.4%, up from 4.1%.
However, Bandyopadhyay and Grittayaphong suggested that the employment losses for immigrants may have been greater, as some immigrants left the U.S. labor force to return to their native countries, particularly if they were in the U.S. because of an employment-based visa.
Analyzing census data, the authors found a drastic decline in the foreign-born share of the U.S. population. This share hit a low in September 2020 before rebounding; by December 2021, the share surpassed the pre-pandemic level. The initial sharp decline suggested a net decline in immigration during that time, they noted.
They also found that the percentage of employed immigrants in total U.S. employment dropped from 18.5% in February 2020 to 17.2% in June 2020; this share would recover to 18.7% by December 2021. Meanwhile, the share of immigrants in the U.S. labor force tumbled from 18.5% in February 2020 to a low of 17.6% in June 2020 before recovering to 18.7% in December 2021.
The data "all point to the fact that COVID-19 posed a heavy but temporary burden on both actual and potential immigrants during this period," they wrote.
Immigrant Employment Share by Occupation
Immigrants were affected differently depending on their occupation during the pandemic, Bandyopadhyay and Grittayaphong observed. For example, the share of foreign-born workers employed in the farming, fisheries and forestry occupational group saw the biggest percentage point drop due to pandemic disruptions, according to the figure below.
Top 6 Shares of Foreign Born (in December 2019) by Occupational Group over Time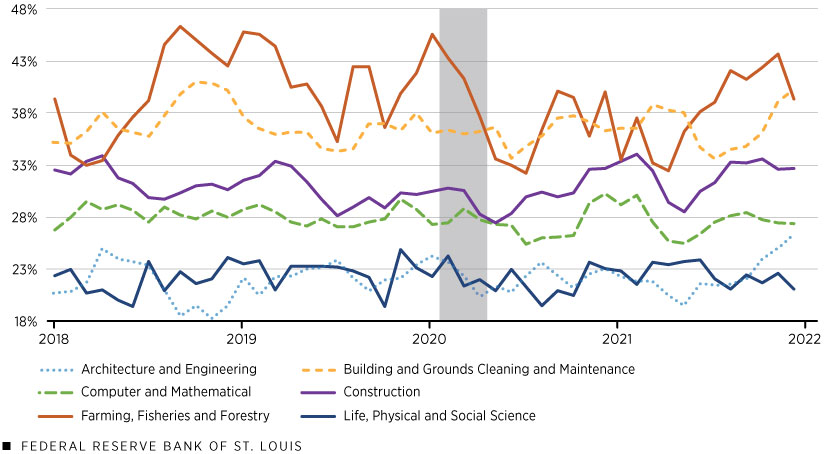 SOURCES: Current Population Survey microdata accessed via IPUMS CPS and authors' calculations.
NOTES: The shaded area represents the COVID-19 recession, which lasted for a period of two months beginning in February 2020 and ending in April 2020.
In contrast, another top job group—building and grounds cleaning and maintenance—remained nearly flat during the recession and had a modest decline shortly after the downturn.
"Although further data and analysis are needed to be sure, it is possible that border disruptions reduced the availability of migrant labor in the farming, fisheries and forestry occupational group, contributing to the sharp decline in the foreign-born employment share during the recessionary period," Bandyopadhyay and Grittayaphong wrote.
This blog offers commentary, analysis and data from our economists and experts. Views expressed are not necessarily those of the St. Louis Fed or Federal Reserve System.
---
Email Us
All other blog-related questions