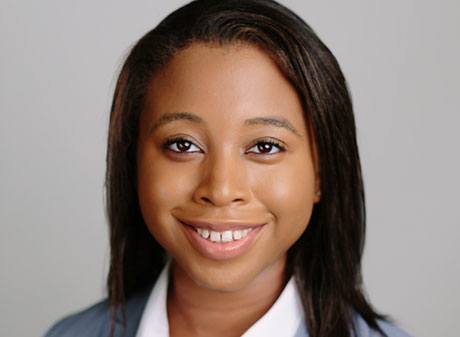 "Wow, it's 2019. How has this happened?"
When Mackenzie Alston decided to pursue her Ph.D. in economics at Texas A&M, she didn't set out to make history. She wanted to study experimental economics, which was taught at only a handful of schools. On her visit to the campus, she clicked with some of the faculty, who made her feel that she would be very supported.
Once she started her classes, she quickly noticed that she was the only black person in her cohort. It got her wondering how many black people had gone through the program, so she started doing a little digging. "It was at that point that I found out that I was the first African‑American and the first black female to get a Ph.D. from Texas A&M in economics," said Alston.
In a recent Women in Economics podcast, Alston recalled her journey that took her from growing up near Milwaukee, to initially pursuing a Spanish major at Washington University in St. Louis, to making history at Texas A&M, to her current role as an assistant professor of economics at Florida State University.
"It's funny, people often point that out when I talk to them about my trajectory: 'It seems like you keep going down,'" Alston said. "But that was not intentional, though I would say that after spending five years in Texas during the winter really made me appreciate being in the South during that time of the year."
It was during her time at Texas A&M that she got involved in researching stereotypes. One of her first studies in this area involved the stereotype that blacks aren't as smart as whites. The team she worked with tested whether being reminded of the stereotype impacted performance on a test measuring verbal intelligence.
They found that students at historically black colleges and universities weren't impacted by being reminded about this stereotype prior to taking the test, which was a departure from previous literature. "We thought that that was fascinating and perhaps promising because maybe that says something about the type of institution and how that can maybe help people build protection from the negative consequences of stereotypes, or maybe it says something about the students that choose to go to historically black colleges and universities," Alston said. "So even though it was what we call a null effect, that we didn't find anything, it was something that was actually a happy result, and we hope to learn more about it."
Additional Resources