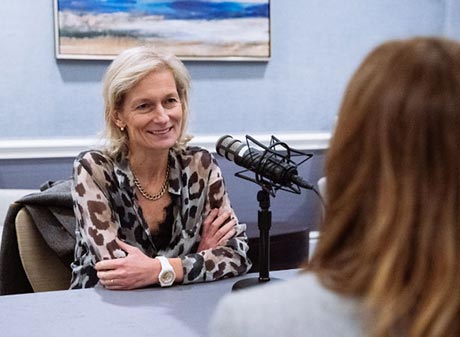 Zanny Minton Beddoes admits she hasn't really ever had a life goal. Still doesn't, actually. But some simple advice has served as a guiding principle in a storied career that has seen her rise to editor-in-chief at The Economist, an international news and business publication. She is the first female at the helm of the publication in its 176-year history.
"I've only ever regretted the things I've not done," Minton Beddoes said. "My advice to anyone is just grab every opportunity you can. I think very rarely will you regret grabbing an opportunity. If it doesn't work out, that's fine. You can go and do something else. And that's, sort of, what I did throughout my career."
In a recent Women in Economics podcast, Minton Beddoes discussed the international path of her career, which started when she worked as an intern in Poland after the fall of the Berlin Wall. She also journeyed to Ukraine for a few months, and she eventually made her way to the International Monetary Fund and, finally, The Economist.
Minton Beddoes also touched on the importance of role models, particularly in visible roles like hers. She recalled walking into conferences and taking stock of who was attending. "I'd always be struck by how few women there were," she said. "But it hadn't been a huge part of my focus. And now, it is much more of it, and I'm very conscious of the importance of role models."
Additional Resources