College across Generations Leads to More Wealth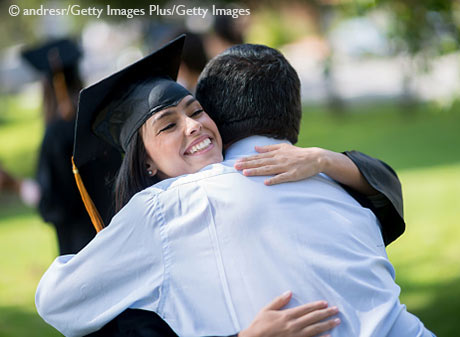 While increasing numbers of Americans are graduating college, people whose parents didn't complete a four-year degree are not as likely to be among them. And, that can have a big effect on how much money they make and how much wealth they build, according to a recent In the Balance article.
Families headed by someone with a college degree whose parents also graduated college tend to be the most financially successful, noted Ana Hernández Kent, policy analyst with the St. Louis Fed's Center for Household Financial Stability. Families with at least two generations of college graduates have median income and wealth that are higher than those of families where fewer generations have college degrees.
Education Cycles
In 1989, 23% of American families were headed by someone with a four-year degree. By 2016, this number had increased to 34%, according to an essay in the center's Demographics of Wealth series.
Using data from the Federal Reserve's Survey of Consumer Finances, Kent looked at educational patterns between generations for family heads who were of working age (ages 30 to 61).
She found that children tended to mimic their parents:
People who represented at least the second generation to attain a college degree headed up 19% of the families. Kent called those family heads "persisters" in education.
Fifty-two percent of the families were headed by people who didn't have college degrees and whose parents also didn't have four-year degrees.
"These numbers show that most family heads (71%) follow in their parents' educational footsteps," Kent wrote. "Thus, parents' education strongly influences their children's educational attainment."
Possible explanations for why children of college graduates are more likely to get a degree include that the parents may be more likely to be involved in their children's schooling, may have more resources to send their children to college and have them get a degree, and may have more "institutional know-how" about how to do it, Kent said.
"Persisters" Have More Wealth than Other Families
The median income and wealth (net worth) of families with at least two generations of college graduates were higher than those of families with other educational backgrounds, Kent found. She compared the income and wealth of a typical "persister" family with the medians for:
Families headed by first-generation college graduates
Families with no college for at least two generations
"Downwardly mobile" families—the family heads didn't have college degrees, although their parents did
The figure shows the median income and wealth for the four categories of families.
Intergenerational College Persistence Affects Finances
NOTES: This bar chart shows the median net worth and annual income of the following groups from left to right: persisters, first-generation, downwardly mobile and no-college. The figures for persisters are income of $118,000 and net worth of $298,000; for first-generation college households, they are $95,000 in income and $214,000 in net worth; for the downwardly mobile, they are $60,000 in income and net worth of $77,000; and for families with no college in either generation, they are $44,000 in income and net worth of $41,000. All numbers are 2016 dollars rounded to the nearest $1,000.
SOURCES: Federal Reserve's Survey of Consumer Finances and author's calculations.
The typical family with at least two generations of college education had more than two and a half times the income and seven times the wealth of families with no college degree in two generations.
Parental education also mattered beyond its effect on the likelihood of children going to college: The "downwardly mobile" families had more income and wealth than those with no college in either generation.
The networks of college graduate parents may help, Kent said, "such as through setting their children up for success with internships and lucrative job opportunities even if those children do not achieve a four-year degree themselves."
Breaking the No-College Cycle
Americans like to think that every child has an equal opportunity to graduate from college and that each graduate will have similar financial success, Kent wrote. But the numbers show that is not the case.
Only 1 in 4 family heads whose parents didn't graduate college earn a degree, Kent wrote.
"Given the clear financial advantages that stem from a college degree, this intergenerational no-college persistence is troubling," Kent said.
Future policy should explore not only how to improve college graduation rates for the children of degreed parents but also how to do better at breaking the no-college cycle, Kent wrote.
Additional Resources
This blog offers commentary, analysis and data from our economists and experts. Views expressed are not necessarily those of the St. Louis Fed or Federal Reserve System.
---
Email Us
All other blog-related questions