Most Jobs Face Automation in Next 20 Years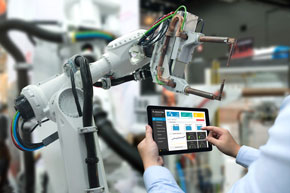 Thinkstock/ Zapp2Photo
Despite a strong labor market, some people worry that they may be put out of a job due to automation. A recent Regional Economist article delved into the likelihood of jobs being automated. They found that 60 percent of jobs within the Eighth District could face automation in the next 20 years. The Eighth District includes all of Arkansas and parts of Illinois, Indiana, Kentucky, Mississippi, Missouri and Tennessee.
Previous Research
Economist Sungki Hong and Senior Research Associate Hannah Shell first discussed a 2013 paper by economists Carl Benedikt Frey and Michael Osborne that examined jobs at risk of being automated. The paper's authors found that 47 percent of U.S. jobs were at risk of being automated.
"Jobs that are repetitive or routine-intensive have the highest probability of this happening," Hong and Shell noted.
Job Automation in the Eighth District
To examine the potential impact of automation within the Eighth Federal Reserve District, Hong and Shell combined Frey and Osborne's probability findings with the Census Bureau's 2017 Occupational Employment Statistics data set. The authors found that the Eighth District had a slightly higher percentage of jobs at risk of automation than the national average.
"We found that 57 percent of jobs could be automated on the national level, while 60 percent of jobs in the District have potential to be automated in the next two decades," the authors wrote.
Where Are Jobs at Risk?
Hong and Shell further examined which metropolitan statistical areas (MSAs) in the Eighth District had the highest shares of jobs at risk. The three MSAs with the largest share of jobs facing automation were:
Hot Springs, Ark.
Bowling Green, Ky.
Fort Smith, Ark.-Okla.
Conversely, the three MSAs with the smallest share facing automation were:
Little Rock-North Little Rock-Conway, Ark.
St. Louis, Mo.-Ill.
Jackson, Tenn.
It should be noted that only Little Rock had a share at risk of under 58 percent, and it was 56 percent. (A figure showing shares for all Eighth District MSAs is in the article "60% of District's Jobs Could Face Automation in the Next 20 Years.")
What Jobs Are at Risk?
Hong and Shell found that many of the highest-employment occupations in the District also have a high probability of automation:
Office and administrative support
Food preparation and serving
Sales
Transportation
They found that occupations with high employment and low probability of automation include health care, business and financial operations, education, and management. "These jobs all require some degree of greater human intelligence and social interaction or else they involve nonroutine tasks that computers are unlikely to be able to perform," the authors noted.
Interpret Results with Care
Hong and Shell noted that these results should be interpreted carefully, as probability of automation isn't the same as the probability of job loss.
"For example, these estimates do not include the equilibrium effect of how easy or hard it will be for a displaced worker to find a new job in other industries when replaced by a machine," they wrote. "Also, we do not consider whether the cost of research and development investment for computerization is lower than the cost of labor."
They concluded that the full impacts of automation are hard to quantify. "Job loss is one potential outcome, but automation could also result in job polarization and lead to increased income inequality," they noted.
Notes and References
1 The Eighth District includes all of Arkansas and parts of Illinois, Indiana, Kentucky, Mississippi, Missouri and Tennessee.
Additional Resources
This blog offers commentary, analysis and data from our economists and experts. Views expressed are not necessarily those of the St. Louis Fed or Federal Reserve System.
---
Email Us
All other blog-related questions