Skilled Tradespeople Can Power Small Business Growth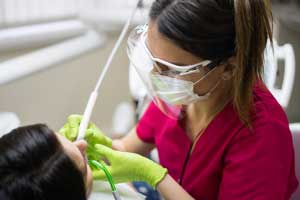 Thinkstock/Igor Kardasov
This is the second post in a two-part series examining individual and small-business growth opportunities via career pathways. The first post looked at the need for middle-skill workers.
Middle-skill jobs are in demand. Broadly, these types of jobs require education beyond high school but do not necessarily require a four-year college degree.
Senior Community Development Specialist Andrew Pack said a workforce well equipped to perform middle-skill jobs can yield additional economic benefits, such as small business creation. In a recent issue of Bridges, he examined the potential for both individual and business growth.
Focusing on the Skilled Trades
Middle-skill occupations exist within an array of industries. Pack keyed in on jobs within the skilled trades, including:
Skilled construction, such as carpenters, electricians, sheet metal workers and operating engineers
Skilled industrial, such as machinists, electrical installers, welders and tool and die makers
Skilled service, such as dental hygienists, medical technicians, auto body repairers and chefs
Pack said the average job growth rate outlook for skilled trades occupations is 8 percent from 2014-2024. Meanwhile, the 2016 median wage for skilled construction ($48,109), skilled industrial ($48,249) and skilled service ($42,080) trades exceeded the median annual wage for all workers ($37,040).1
With that in mind, workforce development experts continue to focus on improving career pathways for skilled trades professionals. Depending on the occupation, this can involve internships, certifications, degrees and stackable credentials.
In particular, on-the-job training programs such as apprenticeships are "critical to having work-ready employees" in the skilled trades, Pack said.
Tradespeople and Small Business Growth
Pack explored economic opportunities beyond individual wage-earning potential: "Demand for employees in the skilled trades corresponds with the need for entrepreneurs and small-business owners to create businesses to employ those workers," he wrote. "It is also a major opportunity for individuals who have successfully learned a skilled trade to start their own business as a career pathway."
Pack noted that, in the 2010-2014 economic recovery, very few new businesses were created relative to previous recoveries, as seen in the figure below.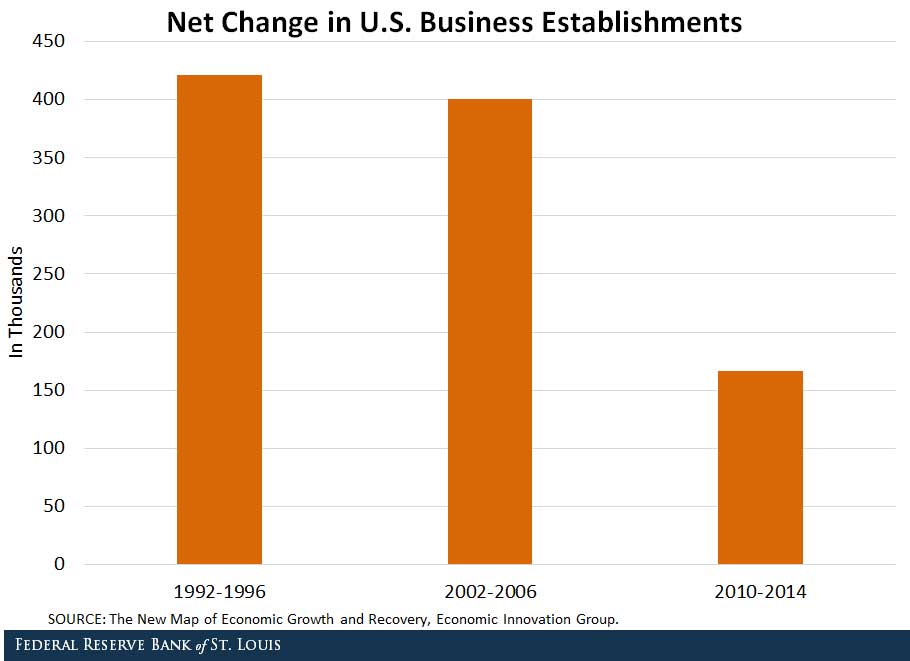 Furthermore, more than half of the establishments created in the latest recovery were concentrated in just 20 U.S. counties in 13 metro areas (none in the Eighth Federal Reserve District).2 In previous recoveries, the bulk of new businesses creation was more broadly distributed across the nation.
The author argued that markets and population growth matter to business creation. But, having a well-equipped workforce matters, too.
"Better career training not only helps businesses grow, it can help to create more small businesses when entrepreneurship is paired with on-the-job training, apprenticeship, and increasing entrepreneurial and business skills as part of the career pathways pipeline," Pack said.
Conclusion
Pack concluded that:
Overall outcomes that many workforce development professionals want to achieve will not occur in stand-alone programs.
Offering multiple career pathways throughout a worker's career—using different opportunities and transferable skills—will achieve greater outcomes.
Much opportunity exists for employment opportunities and quality jobs in the skilled trades in smaller and/or rural areas, as well as larger cities.
Improving incomes and creating jobs by connecting individuals who are skilled in the trades with entrepreneurial skills could take these opportunities to another level, generating the workforce and businesses needed to support a growing U.S. economy.
Notes and References
1 Employment and Occupations in the Skilled Trades in Michigan. State of Michigan Department of Technology, Management, and Budget's Bureau of Labor Market Information and Strategic Initiatives, June 2013; and Occupational Outlook Handbook. U.S. Department of Labor, Bureau of Labor Statistics.
2 The New Map of Economic Growth and Recovery. Economic Innovation Group, May 2016.
Additional Resources
This blog offers commentary, analysis and data from our economists and experts. Views expressed are not necessarily those of the St. Louis Fed or Federal Reserve System.
---
Email Us
All other blog-related questions