Middle-Skill Workers Are in Demand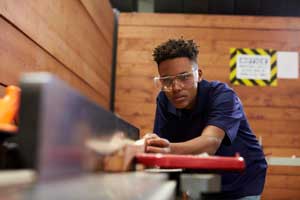 Thinkstock/monkeybusinessimages
This is the first post in a two-part series examining individual and small-business growth opportunities via career pathways.
Recent labor market trends reveal a real need for workers with "middle skills," or skills involving education beyond high school but not necessarily a four-year college degree.
In a recent Bridges article, Senior Community Development Specialist Andrew Pack said that apprenticeships can be a useful gateway to middle-skill jobs.
The Middle-Skill Gap
When the economy rebounded after the Great Recession, the overwhelming majority of new jobs required more than high school education. A 2016 Georgetown University report noted that only 80,000 of the 11.6 million jobs created required a high school education or less.1
A decade later, the demand for middle-skill workers remains stronger than the demand for either low-skill or high-skill workers.
In fact, according to the National Skills Coalition, middle-skill jobs account for more than half of the current U.S. labor market. Yet, just 43 percent of workers are currently trained to the middle-skill level.2
Pack said this is positive news for adults who want to extend their job preparation beyond high school, but who seek an alternative to a traditional college degree.
"As college tuition costs continue to rise and the workforce continues to age," he wrote, "middle-skill jobs offer many people the opportunity to obtain some education beyond high school (e.g., a certification or associate degree) to improve their economic well-being without incurring the cost of a college education."
The Role of Apprenticeships
With a need for middle-skill workers comes a need to create career pathways through certifications, on-the-job training and apprenticeships. Apprenticeships often include a mentor who helps guide a worker.
Pack mentioned two recent federal efforts to expand apprenticeships:
A 2016 Labor Department announcement of $50.5 million in state expansion grants to grow apprenticeship programs across a diverse array of industry sectors.3
A 2017 executive order to increase the number of apprenticeships from 500,000 to 5 million.4
According to the Labor Department's Employment and Training Administration, there were more than 505,000 individuals in apprenticeship programs as of fourth-quarter 2016. Furthermore, 36 states and one territory received Labor Department funding to expand apprenticeships.5
But while there are a number of certified apprenticeship programs available through the Labor Department, Pack said, "the number of apprentices, individuals completing programs and actual apprenticeship programs has varied over the years, as has how active each state is in instituting these programs."
Economic Opportunities
With the current tight labor market, the need for middle-skilled workers has intensified, according to Pack. Enhancing the availability of apprenticeships continues to be a major priority for improving workforce outcomes and strengthening worker skills.
Not only does this create economic opportunities for individuals, it also corresponds with opportunities to create businesses that employ those workers.
Part two of this series will explore broader business opportunities, in particular within the skilled trades.
Notes and References
1 Carnevale, Anthony P.; Jayasundera, Tamara; and Gulish, Artem. America's Divided Recovery: College Haves and Have-Nots. Georgetown University, 2016.
2 United States' Forgotten Middle. National Skills Coalition.
3 Investing More than $50 Million Through ApprenticeshipUSA to Expand Proven Pathways into the Middle Class. U.S. Department of Labor, November 2016.
4 Wyman, Nicholas. "This New Trump Plan Could Be the Answer to Millennial Job Woes." Fortune, June 18, 2017.
5 "Registered Apprenticeship National Results Fiscal Year (FY) 2016." United States Department of Labor Employment and Training Administration, Oct. 19, 2017.
Additional Resources
This blog offers commentary, analysis and data from our economists and experts. Views expressed are not necessarily those of the St. Louis Fed or Federal Reserve System.
---
Email Us
All other blog-related questions