The Financial Challenges of Small Businesses
Thinkstock/DragonImages
More than 60 percent of small businesses faced financial challenges in the past year, according to the 2016 Small Business Credit Survey.
The survey, which was a collaboration of all 12 Federal Reserve banks, provides an in-depth look at small business performance and debt. This report focuses on employer firms, or those with at least one full- or part-time employee.1 When looking at the financial challenges of small businesses, the report covered the second half of 2015 through the second half of 2016.
Financial Challenges and How They Were Addressed
Among all firms, 61 percent reported facing financial challenges over this time period. Financial challenges included:
Credit availability or securing funds for expansion
Paying operating expenses
Making payments on debt
Purchasing inventory or supplies to fulfill contracts
Firms with smaller annual revenue were more likely to experience financial challenges. Of firms with $1 million or less, 67 percent reported facing financial challenges, compared to only 47 percent of firms with more than $1 million.
The figure below shows the breakdown of which financial challenges were most prevalent among small businesses.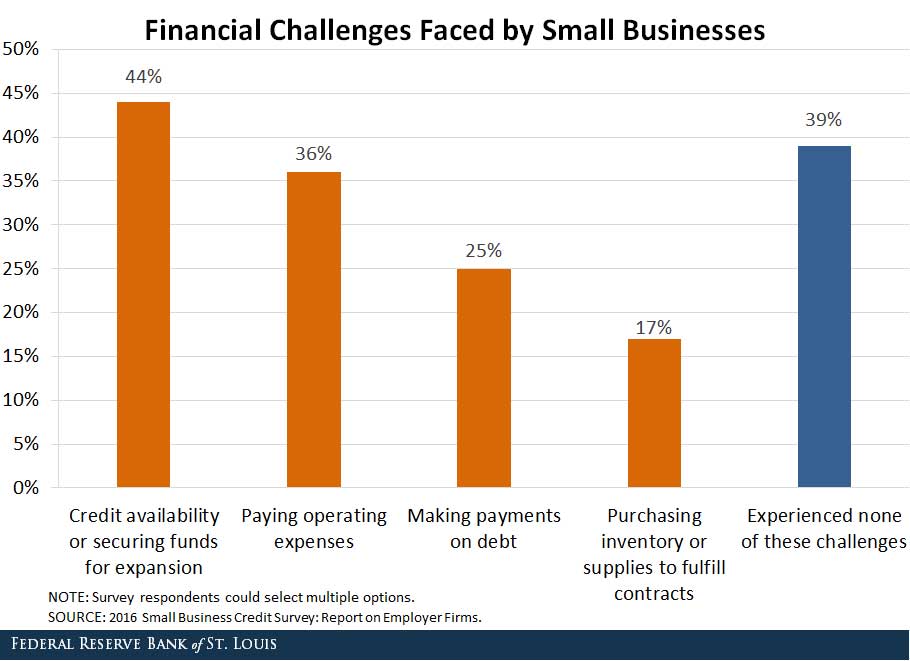 The survey also asked small businesses how they addressed these issues. Their responses are captured in the figure below. (It should be noted that respondents could also answer "unsure" and "other," and those responses are not captured below.)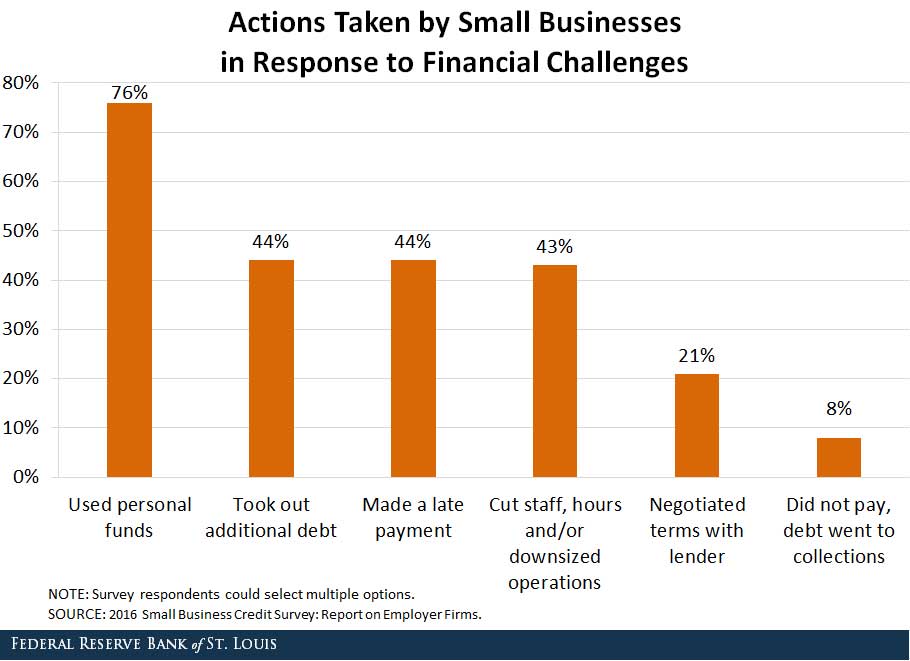 Notes and References
1 This does not include self-employed or firms where the owner is the only employee.
Additional Resources
This blog offers relevant commentary, analysis, research and data from our economists and other St. Louis Fed experts. Views expressed are not necessarily those of the St. Louis Fed or Federal Reserve System.
---
Email Us
All other blog-related questions