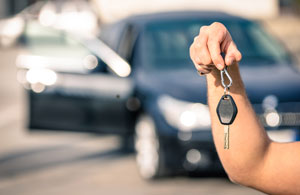 Thinkstock/ViewApart
U.S. real per capita auto debt continued to rise in the last three months of 2016, although at a slower pace. Meanwhile, consumers faced greater difficulties in repaying car loans, according to the latest issue of The Quarterly Debt Monitor.
Lowell Ricketts, lead analyst at the St. Louis Fed's Center for Household Financial Stability, found that real per capita auto debt rose 5.1 percent in the fourth quarter.1 This was the second consecutive quarter in which the growth of this debt slowed. Since the second quarter of 2016, the growth rate of auto debt has fallen 3.2 percentage points.
Growth in Auto Debt
Low interest rates, cheaper fuel prices and the strengthening economy have helped fuel robust growth in auto borrowing in recent years. "Taken together, these developments have provided greater incentives for consumers to take out loans to make car purchases," Ricketts wrote.
He noted that this credit expansion has included subprime borrowers—those with a credit score of less than 620.
Slowdown in Auto Debt Growth
Concerns about increased delinquencies and greater loan-to-value ratios, however, have prompted some lenders to tighten underwriting standards and/or to reduce lending activity. Nationally, the rate of serious delinquency on auto debt rose by 0.4 percentage points in the fourth quarter.2
Ricketts noted that the tighter standards and reduced lending activity "may be reflected to some degree in the growth slowdown seen in the nation" and the metropolitan statistical areas (MSAs) within the Eighth Federal Reserve District.3
Auto Debt in the Eighth District
The slowdown in the growth of auto debt has been more persistent in the District, where the pace of growth in auto debt has weakened for three consecutive quarters.
Ricketts examined debt levels in the four largest MSAs in the District and found that fourth-quarter per capita auto debt increased:
4.2 percent in St. Louis, or 4.1 percentage points lower than in the first quarter of 2016
4.0 percent in Little Rock, Ark., or 4.9 percentage points lower
5.4 percent in Louisville, Ky., or 2.5 percentage points lower
5.5 percent in Memphis, Tenn., or 3.4 percentage points lower
Meanwhile, Ricketts noted that the rate of serious delinquency for auto loans increased during the fourth quarter, indicating that borrowers were having difficulties repaying auto debt. In particular, it increased by:
0.1 percentage point in St. Louis
0.6 percentage points in Little Rock
0.5 percentage points in Louisville
1.2 percentage points in Memphis
These increases pushed the serious delinquency rates for Louisville (3.4 percent) and Little Rock (4.3 percent) to match or exceed the previous peak seen after the most recent recession.
Subprime Lending within the Eighth District
Ricketts also found that auto debt extended to subprime borrowers grew fastest in Memphis and Little Rock during the fourth quarter. Subprime debt now makes up 38 percent of outstanding auto debt in Memphis, while accounting for 28 percent of auto debt in Little Rock. In contrast, subprime debt made up 23 percent of auto debt in Louisville and 21 percent in St. Louis.
Given that subprime borrowers are more likely to have difficulty repaying loans, the growth of subprime loans in Memphis and Little Rock "helps explain the increase in the overall serious delinquency rates in these MSAs," according to Ricketts.
(To see charts detailing serious delinquency rates for auto debt by credit score in these four cities, go to the article "Auto Debt Expansion Continues to Slow While Subprime Delinquencies Rise.")
However, the difficulties facing subprime borrowers were felt throughout the District.
"Serious auto delinquency rates were higher and increasing faster for subprime borrowers in all four MSAs," Ricketts wrote. "Given the growing share of subprime debt within these MSAs, this may contribute to further increases in overall serious delinquency rates."
Notes and References
1 Changes in real per capita debt levels and serious delinquency rates are relative to the same quarter one year earlier.
2 The rate of serious delinquency is defined as the share of outstanding debt that has a payment at least 90 days past due.
3 The Eighth District is headquartered in St. Louis and includes all of Arkansas and parts of Illinois, Indiana, Kentucky, Mississippi, Missouri and Tennessee.
Additional Resources