Beige Book: Economic Activity Continues Modest Expansion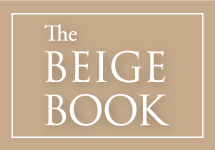 During weeks when the Federal Reserve's Beige Book is released, the On the Economy blog features a Wednesday post based on the book in lieu of the regularly scheduled Thursday post.
Economic activity continued to expand at a modest pace, according to the latest issue of the Beige Book. Most Federal Reserve districts reported a modest or moderate pace of growth, and contacts in all districts generally expect moderate economic growth in coming months. In the Eighth District,1 economic conditions improved slightly.
Real Estate
Residential real estate activity expanded further in most districts. However, four (including the Eighth District) reported that home sales slowed in some parts of their districts due to a shortage of available housing. Recent house price appreciation was generally modest.
Commercial real estate activity also expanded further in most districts, though construction and sales rose only slightly in the Eighth District. Contacts in several districts cited modest expectations for commercial real estate sales and construction activity moving forward.
Labor Markets
Employment expanded at a moderate pace, and labor market conditions remained tight in most districts, including the Eighth District. Many districts noted that businesses had trouble filling job vacancies for high-skilled positions.
While wage growth ranged from flat to strong, most districts reported that wage pressures remained fairly modest.
The Eighth District reported continued tightening in local labor markets, with relatively strong wage growth and moderate employment growth. District contacts expect similar trends to continue over the next quarter.
Consumer Spending
Overall consumer spending changed little in most districts. Auto sales declined somewhat but remained at high levels, while auto inventory levels varied across districts. Dealers in St. Louis reported an elevated level of inventories.
Reports from general retailers and auto dealers paint a mixed picture of consumer spending in the Eighth District. For instance, contacts in the restaurant and hospitality industry in Memphis reported that business continues to be strong, though contacts in Little Rock and eastern Arkansas indicated a slowdown in general retail sales.
Notes and References
1 The Eighth District is headquartered in St. Louis and includes all of Arkansas and parts of Illinois, Indiana, Kentucky, Mississippi, Missouri and Tennessee.
Additional Resources
This blog offers commentary, analysis and data from our economists and experts. Views expressed are not necessarily those of the St. Louis Fed or Federal Reserve System.
---
Email Us
All other blog-related questions