By YiLi Chien, Senior Economist, and Paul Morris, Research Associate
Several cities in the Midwest, including St. Louis, see gas prices move in a cyclical saw-tooth pattern. The figure below plots the average regular gasoline price in the St. Louis metro area on a daily basis from October through March.1 The shaded area indicates that the date is a Thursday, Friday or Saturday.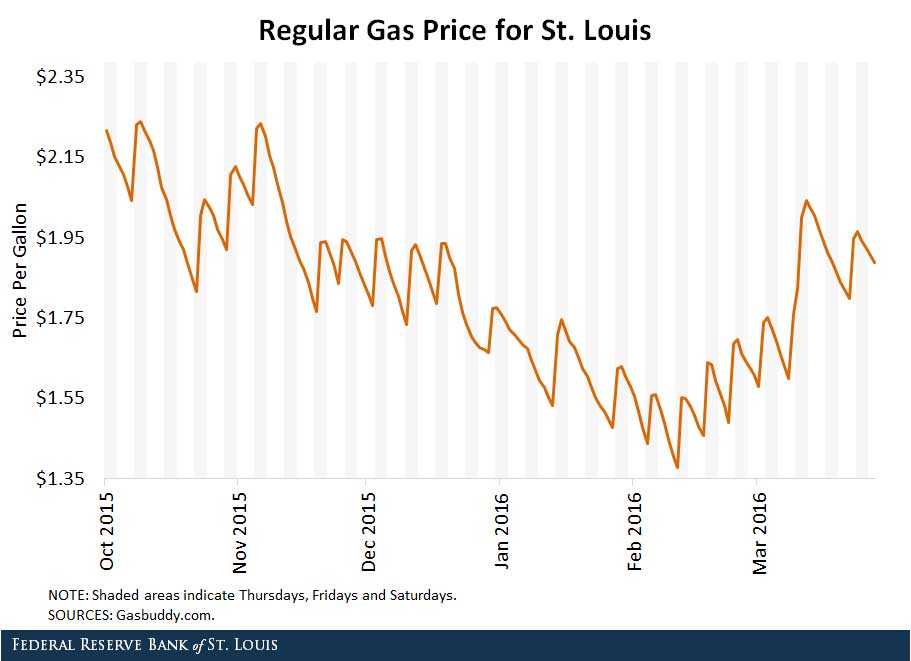 A striking feature of the cyclical pattern in St. Louis is its regularity: The price usually spikes on Thursdays, Fridays or Saturdays.2 This pattern indicates some predictability and an opportunity for consumers to save a few dollars if they know when to buy.
Timing Gas Purchases
So how much might people save by filling up the tank early in the week? For each week, we took the difference between the gas price for each day and the weekly gas price average. Doing this allows us to separate the cyclical pattern from factors that affect the long-term trend of gasoline prices, such as changes in the price of crude oil. Averaging these differences across the 25 full weeks in our sample gives us the results shown below.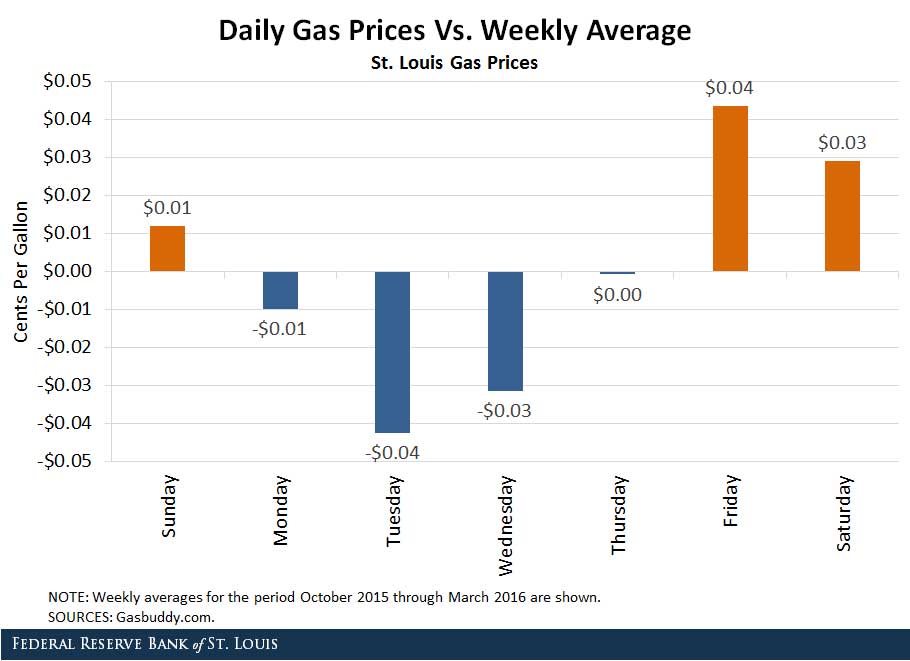 The chart shows that there is an opportunity for savings by purchasing gasoline on Tuesday or Wednesday instead of Friday or Saturday, up to eight or nine cents per gallon on average. While this may not seem significant, filling up a 15 gallon tank once a week could amount to a difference of more than $60 a year. (It is important to keep in mind that this analysis only includes St. Louis and that cyclical patterns can change over time.)
If a significant amount of consumers timed the cycle, gas stations would be forced to adopt a less predictable pattern. So why hasn't this happened? The simplest explanation is that most consumers aren't aware of the cycles. Even if some were aware, they may not care enough about saving a few dollars to change their behavior.
The fact that gasoline prices in a particular area follow each other very closely suggests that consumers are willing to switch from station to station to follow the lowest price. However, our finding suggests that consumers are less willing to substitute the timing of their gasoline purchases. Gasoline can be a necessity, so waiting to fill up may not be an option for many people. But with some careful planning, it is surprisingly easy to time the gasoline market if you are a St. Louis resident: Fill up on Tuesdays.
Notes and References
1 Gas price data was provided by Gasbuddy.com.
2 For a brief overview on gasoline pricing cycling refer to Chien, YiLi; and Morris, Paul. "Filling the Tank on Fridays May Be a Bad Idea for St. Louis." Federal Reserve Bank of St. Louis Economic Synopses, April 29, 2016.
Additional Resources