Beige Book: Economic Activity Expands in Most Districts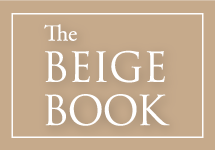 During weeks when the Federal Reserve's Beige Book is released, the On the Economy blog features a post based on the book on Wednesday in lieu of the regularly scheduled Thursday post.
Economic activity increased in most Federal Reserve districts during the latest reporting period, according to the latest Beige Book. The St. Louis District1 was one of six to report modest economic growth.
Real Estate
Residential real estate activity increased moderately in most districts, according to the report. Four districts reported that home sales were strong, while sales in other districts were positive but somewhat lower. Contacts in several districts, including St. Louis, reported lower inventories of homes.
Residential construction increased in most districts, except two that reported it was mixed. Many districts saw continued growth in multifamily construction.
In the St. Louis District, the majority of contacts reported an uptick in new residential construction relative to a year ago, with many expecting a similar increase next quarter.
Labor Markets
According to the report, employment grew modestly since the previous Beige Book, but tight labor markets were widely noted in most districts. In the St. Louis District, contacts that were having trouble filling job vacancies primarily cited few applicants or candidates lacking the necessary skills. Five districts reported soft labor markets in energy sectors.
Wage growth was modest overall during the reporting period, and increases were concentrated in areas of labor tightness. For instance, contacts in three districts, including St. Louis, reported wage pressure for certain high-skilled employees.
In the St. Louis District, over two-thirds of hiring managers surveyed said they are increasing wages and salaries by more than they had in the past few years to retain existing employees and attract new ones.
Consumer Spending
While consumer spending increased modestly in many districts, contacts reported mixed or flat activity in four districts. Three districts indicated that cool weather in the spring dampened sales compared with a year earlier.
Among districts that reported auto sales activity, sales were steady except in three districts, which experienced a slight decline. St. Louis was one of three districts to report an optimistic outlook for annual auto sales this year, due mostly to low gas prices.
Notes and References
1 The St. Louis District includes all of Arkansas and parts of Illinois, Indiana, Kentucky, Mississippi, Missouri and Tennessee.
Additional Resources
This blog offers commentary, analysis and data from our economists and experts. Views expressed are not necessarily those of the St. Louis Fed or Federal Reserve System.
---
Email Us
All other blog-related questions