Beige Book: Economic Activity Expands at Modest Pace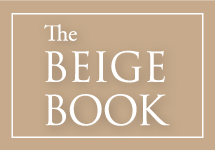 During weeks when the Federal Reserve's Beige Book is released, the On the Economy blog features a post based on the book on Wednesday in lieu of the regularly scheduled Thursday post.
Economic activity continued to expand at a modest pace in most regions, according to the latest issue of the Beige Book. The St. Louis District1 reported modest growth.
Real Estate
Residential real estate activity continued to strengthen. Many districts reported continued low inventories and that house prices increased. Residential construction activity was mostly positive across districts, and commercial sales and leasing activity remained stable or improved in almost all districts.
The St. Louis District was one of three to report strong growth in single-family home sales. Three-fourths of local real estate contacts expect demand for single-family homes to be slightly higher in the third quarter compared to the same time last year. Also, most real estate contacts expect an increase in construction during the third quarter.
Labor Markets
Reports for employment growth ranged from little change in one district to moderate growth in another. Overall, employment continued to grow modestly. Contacts in several districts reported strong demand for skilled labor.
Wage pressures remained modest to moderate in most districts, with the strongest pressures linked to skilled workers and difficult-to-fill positions.
In the St. Louis District, employment growth has been modest, and wage growth has been strong. Contacts across several industries expect employment to be either stable or increasing over the next year.
Consumer Spending
Overall consumer spending was positive but showed signs of softening. That said, the outlook for consumer spending activity was predominantly optimistic across most districts. Retail sales activity was mixed overall, with three districts reporting declines, two reporting mixed results and four reporting modest to moderate growth.
The St. Louis District was one of the four districts reporting growth in retail sales, noting modest growth since the previous report. Auto dealers in the District had mainly positive reports, with multiple dealers saying they expect an increase in year-over-year sales in the third quarter.
Notes and References
1 The St. Louis District includes all of Arkansas and parts of Illinois, Indiana, Kentucky, Mississippi, Missouri and Tennessee.
Additional Resources
This blog offers commentary, analysis and data from our economists and experts. Views expressed are not necessarily those of the St. Louis Fed or Federal Reserve System.
---
Email Us
All other blog-related questions