What Issues Do Low- and Moderate-Income Households and Communities Face?

Generational poverty was considered the biggest issue facing low- and moderate-income (LMI) households and communities, according to the most recent Community Development Outlook Survey, conducted by the St. Louis Fed's Community Development area. This was the first time since the survey's 2011 inception that job availability was not considered as having the biggest negative impact.
The survey asked a variety of stakeholders from Eighth Federal Reserve District states about issues facing LMI individuals, households and communities.1 Regarding issues impacting LMI households and communities, job availability narrowly trailed generational poverty as having the greatest negative impact. One respondent from Indiana noted: "Our community relies on low-level jobs and there are not enough good jobs for college graduates that offer appropriate pay. College graduates are leaving our community for better opportunities." Other issues affecting these households and communities are in the figure below.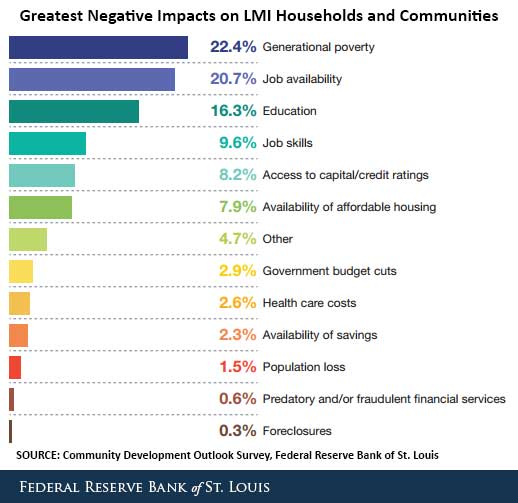 The next generation in LMI communities is expected to face similar issues. The top three challenges according to the survey were job availability, generational poverty and education.
The State of LMI Individuals, Households and Communities
Survey respondents were asked about the general economic conditions of LMI communities compared with six months ago. 20.1 percent said conditions were improving, compared to only 18.7 percent saying the same in the 2014 survey. 63.7 percent said conditions were staying the same, and 16.3 percent said conditions were declining. The percentages from the 2014 survey were 64.3 percent and 17.0 percent, respectively.
Regarding the future of LMI people and households, 38.4 percent of respondents said the status of LMI people and households would be better in three to five years, while only 18.5 percent said their status would be worse. The percentages from the 2014 survey were 38.6 percent and 21.4 percent, respectively.
Increasing Financial Stability
In addition, the survey gathered responses on ways to help LMI households. The figure below shows the responses to the question: Which one of the following assets is most important in helping to increase the financial stability of LMI households?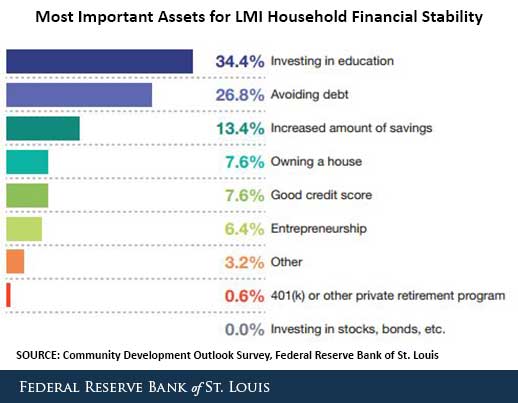 The survey also noted the top actions that organizations or communities could take to improve the outlook for LMI individuals if funding was not a concern. The top three responses were:
Improve workforce development programs (27.4 percent of respondents)
Redevelop areas of the community to stimulate businesses and job growth (26.8 percent)
Increase access to or quality of education (12.1 percent)
This marked the first time since the survey's inception that improving workforce development programs was the most cited response.
Notes and References
1 Eighth District states are Arkansas, Illinois, Indiana, Kentucky, Mississippi, Missouri and Tennessee.
Additional Resources
This blog offers commentary, analysis and data from our economists and experts. Views expressed are not necessarily those of the St. Louis Fed or Federal Reserve System.
---
Email Us
All other blog-related questions