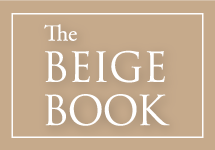 During weeks when the Federal Reserve's Beige Book is released, the On the Economy blog features a post based on the book on Wednesdays in lieu of the regularly scheduled Thursday post.
Economic activity continued expanding in all 12 Federal Reserve districts, according to the latest Beige Book. Most districts saw a continuation of the overall pace cited in the previous report. The St. Louis District1 was one of six to report moderate growth over the reporting period.
Real Estate
Residential real estate activity improved across the country. Home sales and home prices increased in every district. Construction activity increased in most districts, but five reported moderate or flat activity. Commercial real estate reports were positive on balance.
In the St. Louis District, residential real estate activity continued to expand at a steady pace. Construction activity is expected to continue to increase through the fourth quarter. Commercial and industrial real estate market conditions were positive throughout the District.
In the District's largest metropolitan statistical areas, June year-over-year home sales increased:
7 percent in Little Rock
20 percent in Louisville
13 percent in Memphis
16 percent in St. Louis
Labor Markets
Most districts reported slight or modest growth in employment since the previous Beige Book. Six districts—including the St. Louis District—reported labor shortages for certain skills or difficulty finding workers, especially for IT and other technical positions.
Wages were relatively stable in most districts, though several districts reported increasing wage pressures caused by labor market tightening. Nearly three-fifths of responding firms in the St. Louis District had higher wages over the past three months compared to the same period one year ago.
Prices and Consumer Spending
Both input and output prices remained stable in most districts. Ten districts reported that prices were mostly flat or had increased slightly. Half of contacts in the St. Louis District said prices charged to customers were about the same during the past three months, relative to last year. Thirty-five percent reported an increase in prices, and the remainder reported a decrease.
Retail sales results varied across the country. Four districts reported a moderate increase in the pace of consumer spending. One district reported that sales rose sharply, another said retail sales were largely flat, while a third district said sales were flat during the survey period and lower compared to a year ago.
Most retail contacts in the St. Louis District said sales were at or above 2014 levels, but below expectations. Still, most District contacts were optimistic that retail sales will stay on pace or improve in the coming months.
Notes and References
1 The St. Louis District includes all of Arkansas and parts of Illinois, Indiana, Kentucky, Mississippi, Missouri and Tennessee.
Additional Resources