Deposits Grow across Banks Following Financial Crisis
Following the financial crisis, there has been a steady, widespread increase in deposits in the U.S. banking system, according to the latest issue of Banking Insights by the Federal Reserve Bank of St. Louis.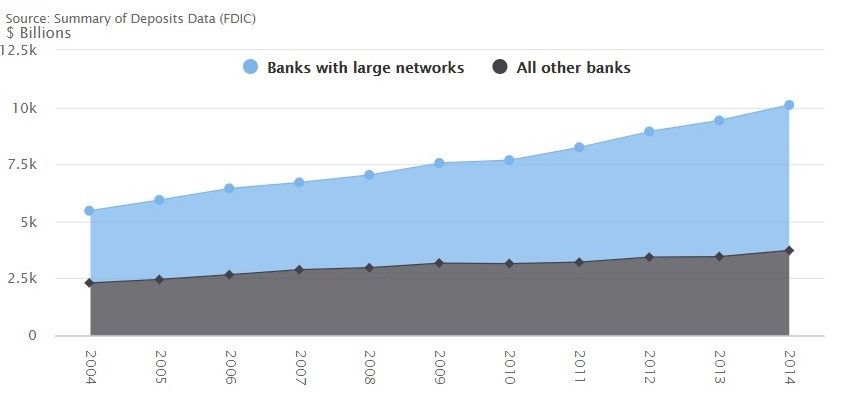 Policy Analyst Michelle Cissi examined deposits at banks with large branch networks (100 or more branches) and all other banks. As seen in the figure below, total deposits grew from $5.5 trillion to $10.1 trillion over the period 2004 to 2014.
As the figure shows, deposits grew at a similar pace for both banks with large networks (28.6 percent) and all other banks (28.8 percent) in the years leading up to the financial crisis (2004-2008). From 2008 to 2014, however, banks with large networks saw a much larger increase in deposits than all other banks (56.9 percent to 25.5 percent).
Cissi noted that the increase in deposits likely stems from higher risk aversion following the financial crisis. Cissi also showed that deposit growth rates for banks with large networks had been higher in each year since 2008, until the trend reversed. As shown in the figure below, aggregate deposits at banks with large networks grew 6.9 percent in 2014, while aggregate deposits at all other banks grew 7.7 percent in the same year.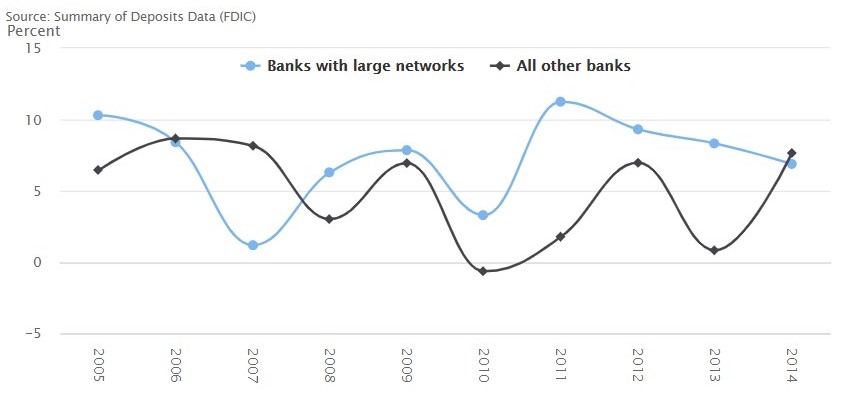 Additional Resources
This blog offers commentary, analysis and data from our economists and experts. Views expressed are not necessarily those of the St. Louis Fed or Federal Reserve System.
---
Email Us
All other blog-related questions