India's Services Sector Is Booming, While Manufacturing Lags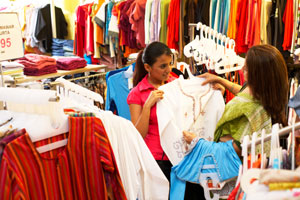 Thinkstock/Yamini Chao
Between 1970 and 2013, services as a share of India's gross domestic product grew from 34 percent to 53 percent, while manufacturing's share grew from 19 percent to only 23 percent. Yet, employment rose faster in manufacturing than in services. It grew 9 percentage points from 1994 through 2012 compared to 4 percentage points in services. The result, as shown in the figure below, is that aggregate labor productivity (output/employment) has grown rapidly in services while stagnating in manufacturing.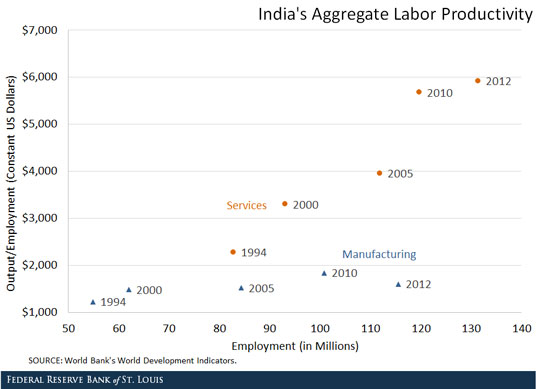 The combination of growth in services and stagnation in manufacturing is puzzling because both sectors operate in the same economic environments and under similar government regulations. Moreover, the high productivity of services relative to manufacturing makes India an outlier in international comparisons. The figure below contrasts the relative productivity of services in India to that of several other Asian countries.
The figure shows that, while other Asian countries have lower relative services productivities, it is the opposite case for India. Further, none of the other countries have seen either the level or the growth of relative services productivity as witnessed in India, where services were nearly four times as productive as manufacturing in 2012.
Anusha Chari, Manisha Goel and I are studying why structural transformation in India has followed this atypical pattern and its relationship with the behavior of labor productivity differences between the services and manufacturing sectors.
Notes and References
1 Chari, Anusha; Goel, Manisha; and Restrepo-Echavarria, Paulina. "Growing Services, Stagnant Manufacturing: Sectoral Resource Misallocation in India." Unpublished manuscript, 2015.
Additional Resources
This blog offers relevant commentary, analysis, research and data from our economists and other St. Louis Fed experts. Views expressed are not necessarily those of the St. Louis Fed or Federal Reserve System.
---
Email Us
All other blog-related questions