Beige Book: Most Regions Saw Modest Economic Growth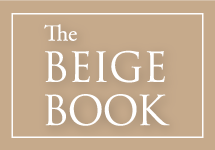 During weeks when the Federal Reserve's Beige Book is released, the On the Economy blog features a post based on the book on Wednesdays in lieu of the regularly scheduled Thursday post.
Economic activity increased at a modest pace in most regions of the country, according to the latest edition of the Federal Reserve's Beige Book. The St. Louis District1 was one of seven districts to experience modest growth.
Real Estate
Nationally, housing markets grew at a moderate pace on balance, and home prices increased modestly. Residential construction grew at a modest to moderate pace, while commercial construction strengthened modestly in most districts. Housing inventory continued to fall year-over-year in four districts, including the St. Louis District.
Contacts in the St. Louis District noted that fourth-quarter home sales and home construction were higher than the same time last year. Commercial real estate market conditions were positive throughout most of the District.
Labor Markets
Labor markets continued to tighten modestly on balance across the nation. Many districts indicated that increased hiring was driven by temporary and entry-level positions being fulfilled by staffing firms. Just over two-thirds of hiring managers surveyed by the St. Louis District are actively seeking employees.
Wage pressures were generally stable to increasing, and most districts said that wage pressures increased only for skilled occupations and for workers that were in short supply. In the St. Louis District, wage growth was moderate, according to business contacts. About two-thirds of District hiring managers reported raising starting salaries or wages of new hires by more than they have in the past few years.
Consumer Spending
Consumer spending increased in nearly all districts. The St. Louis District was one of four to report a modest pace of growth. Sales of light vehicles continued to rise across most of the nation. Auto dealers in several districts credited low gasoline prices for boosting sales.
Most business contacts in the St. Louis District indicated that retail sales in the current quarter have met expectations and were at least slightly higher compared with the same time last year. However, reports from local auto dealers were mixed. The majority of respondents claimed that sales over the past two months have fallen short of expectations.
Notes and References
1 The St. Louis District includes all of Arkansas and parts of Illinois, Indiana, Kentucky, Mississippi, Missouri and Tennessee.
Additional Resources
This blog offers commentary, analysis and data from our economists and experts. Views expressed are not necessarily those of the St. Louis Fed or Federal Reserve System.
---
Email Us
All other blog-related questions