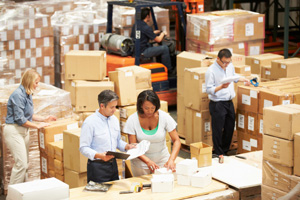 Thinkstock/monkeybusinessimages
A study done earlier this year found that jobs in higher-paying industries were being added at a faster rate nationally than jobs in lower-paying industries. However, an article in the latest issue of The Regional Economist shows that the opposite has been true for jobs in the Eighth Federal Reserve District.1
National Perspective
In the earlier study, Business Economist and Research Officer Kevin Kliesen and Senior Research Associate Lowell Ricketts categorized industries as higher or lower paying via the median real wage of all private-sector industries in 2007. If the average real wage for a particular industry was higher than the overall median wage, the industry was considered higher paying. If below, then it was lower paying.
During the 5.5 years following the trough of the Great Recession, higher-paying industries added jobs at a rate of 9.9 percent. Lower-paying industries saw job growth of 8.9 percent.2
Around the Eighth District
In the more recent study, Economist Maximiliano Dvorkin and Research Associate Hannah Shell used county data from the Census Bureau's Quarterly Workforce Indicators. They sorted industries into higher-paying or lower-paying categories based on whether the average monthly earnings of an Eighth District worker in that industry were above or below the median earnings across all industries in the District. Their analysis covered the period 2010-2013.
They found that lower-paying industries saw more rapid job growth in the District than higher-paying industries. Lower-paying industries grew 3.65 percent during this period. Higher-paying industries grew 2.15 percent.
Dvorkin and Shell concluded: "The discrepancy in growth rates in the District is different from the discrepancy in the nation, where Kliesen and Ricketts found that jobs in high-paying industries are growing at a faster rate than jobs in low-paying industries."
Notes and References
1 The Eighth District consists of all of Arkansas and parts of Illinois, Indiana, Kentucky, Mississippi, Missouri and Tennessee.
2 It should be noted that the total number of jobs in lower-paying industries exceeded those in higher-paying industries by nearly 70 percent. Thus, while jobs in higher-paying industries grew faster than in lower-paying industries, 61 percent of the total number of jobs added were in lower-paying industries.
Additional Resources