Mutual Fund Flows and Investor Behavior
Mutual fund flows merit discussion for several reasons:
The total value of mutual funds exceeded $15 trillion in the U.S. last year. This value translates to around a 30 percent market share of U.S. corporate equity. Therefore, the movement of mutual fund flows could influence stock and bond prices significantly.
According to the Federal Reserve Board's Financial Accounts of the United States, households directly hold approximately 60 percent of bond and equity mutual funds and 42 percent of money market mutual funds. Hence, the flows of mutual funds can also shed light on the portfolio adjustments among ordinary households in response to changes in market conditions.
Mutual fund flows data are updated weekly, which can give a more instant view on the demand for financial assets.
Below are money market, equity and bond mutual fund flows from the first half of 2014. There is a clear trend of money outflows from money market mutual funds and inflows into both equity and bond market mutual funds. Money market mutual funds exhibited a large and sudden outflow in March and June. By the end of the third week in June, total outflows amounted to more than $144 billion.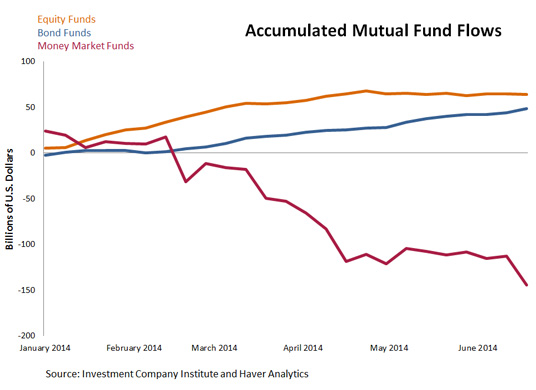 In 2013, equity mutual funds received strong net inflows of $142 billion. This year, equity mutual funds continue to attract investors, though at a slower pace. The average monthly inflows are down to around $11 billion from $11.8 billion in 2013. The net inflow to equity mutual funds reached $64 billion by mid-June.
Unlike the persistent inflow to equity mutual funds last year, there was a turning point for bond mutual funds from inflows to outflows in June 2013, as the Federal Reserve laid out its tapering plan. Strong outflows in the second half of last year meant an overall outflow of $71 billion. However, as the figure above shows, mutual fund investors have increased their holdings of bond mutual funds significantly since February. The averaging inflows reached $8.4 billion per month, bringing the total inflow to $48 billion by mid-June.
Overall, there has been a reverse effect of flight to quality in the past six months. Mutual fund investors have been adjusting their portfolios from safe and short-term money market funds into relatively riskier and longer-term mutual funds.
Additional Resources
This blog offers relevant commentary, analysis, research and data from our economists and other St. Louis Fed experts. Views expressed are not necessarily those of the St. Louis Fed or Federal Reserve System.
---
Email Us
All other blog-related questions