How Has the Bankruptcy Act Affected Bankruptcy Filings?
It is well known that the number of non-business bankruptcy filings increased dramatically during the '80s and '90s. This period has been referred to as the "revolution in consumer credit and consumer bankruptcy,"1 as the number of Chapter 7 bankruptcy filings increased more than fivefold from 1983 to 2004. This process, which is associated with the decline in the cost of information,2 ended with the Bankruptcy Abuse Prevention and Consumer Protection Act (BAPCPA) of 2005. In short, BAPCPA made bankruptcy filings more costly and more limited to low-income households. We focused on the evolution of the number of bankruptcy filings after the BAPCPA.
The figure below presents data on Chapter 7 and Chapter 13 bankruptcy filings for debt associated (predominantly) with non-business activity. Since the most recent information available is for the third quarter of 2014, the chart includes data for the third quarter of every year since 2001.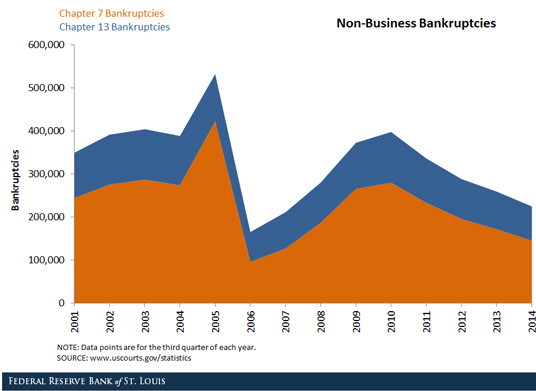 The figure shows two interesting patterns:
Chapter 7 filings increased dramatically in anticipation of BAPCPA.
Chapter 7 filings, and to some extent Chapter 13 filings, increased during the recession and have now been declining for four consecutive years.
The fact that bankruptcy filings have been declining while employment has been increasing should not be a surprise, since research has shown that bankruptcy filings follow fluctuations in the labor market quite closely.3
BAPCPA clearly had an impact on the number of bankruptcies being filed. However, the exact impact may not be known for some time, since the recession hit right after the BAPCPA was implemented.
Notes and References
1 Moss, David; and Johnson, Gibbs. "The Rise of Consumer Bankruptcy: Evolution, Revolution, or Both?," American Bankruptcy Law Journal, Spring 1999, Vol. 73, Issue 2, pp. 311–351.
2 Sánchez, Juan M. "The IT Revolution and the Unsecured Credit Market," Federal Reserve Bank of St. Louis Working Paper 2010-022B.
3 Athreya, Kartik; Sánchez, Juan M.; Tam, Xuan S.; and Young, Eric R. "Labor Market Upheaval, Default Regulations, and Consumer Debt," Federal Reserve Bank of St. Louis Working Paper 2014-002C.
Additional Resources
This blog offers commentary, analysis and data from our economists and experts. Views expressed are not necessarily those of the St. Louis Fed or Federal Reserve System.
---
Email Us
All other blog-related questions