St. Louis Fed's Bullard Presents "The First Steps Toward Disinflation in the U.S."
LITTLE ROCK, Ark. –Federal Reserve Bank of St. Louis President James Bullard presented "The First Steps Toward Disinflation in the U.S." (PDF) on Thursday at an event hosted by the Little Rock Regional Chamber.
The presentation was an update to versions given June 1 at the Economic Club of Memphis and June 20 in Barcelona. Bullard reiterated in Thursday's presentation that inflation in the U.S. is comparable to 1970s levels, and that U.S. inflation expectations could become unmoored without credible Fed action. He noted that the Fed has reacted by taking important first steps to return inflation to the 2% target, that market interest rates have increased substantially (partially in response to promised Fed action), that U.S. labor markets remain robust, and that output is expected to continue to expand through 2022.
In his updated presentation for Thursday, Bullard incorporated more recent inflation and other economic data. He also added comments on the discrepancy that is present between U.S. gross domestic product (GDP), which is the total value of goods and services produced domestically, and U.S. gross domestic income (GDI), which is the total value of income earned domestically. He noted:
U.S. GDP is supposed to equal U.S. GDI, but there is a "statistical discrepancy" such that the two numbers do not match.
Because of this discrepancy, these two measures of output provide conflicting views of recent economic conditions, with GDP suggesting a declining economy but GDI pointing to a growing economy.
At this point, the GDI measure appears to be more consistent with observed labor markets, suggesting the economy continues to grow.
As in the June 1 and June 20 presentations, Bullard reiterated that the Fed has raised the policy rate, has promised to raise the policy rate further in the future, and has begun passive balance sheet reduction as first steps toward disinflation in the U.S. "Forward guidance on these dimensions is helping the Fed move policy more quickly to the degree necessary to keep inflation under control," he added.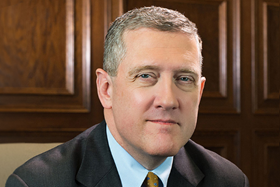 James Bullard is president and chief executive officer of the Federal Reserve Bank of St. Louis. In these roles, he participates in the Federal Open Market Committee (FOMC) and directs the activities of the Federal Reserve's Eighth District.
For media inquiries, contact Laura Girresch
Office: (314) 444-6166

Cell: (314) 348-3639
From the President: