ST. LOUIS, MO – Vicki Fuhrhop has been named the recipient of the 2018 Economic Educator Advisory Board Educator of the Year Award from the Federal Reserve Bank of St. Louis.
Fuhrhop, a business education teacher at Collinsville High School in Collinsville, Ill., has served on the St. Louis Fed's Educator Advisory Board for five years.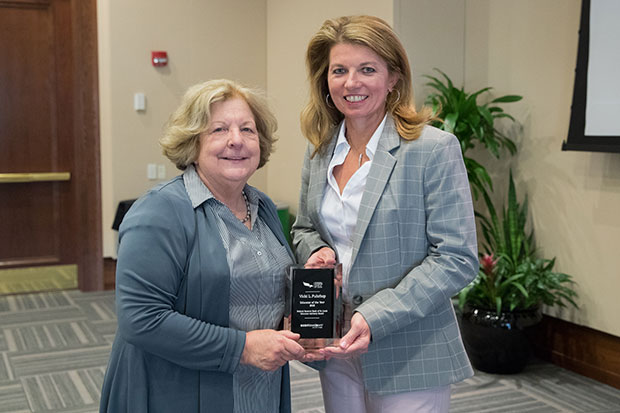 The board is composed of local teachers who review curriculum, attend meetings, present at events and contribute in other ways to the success of the St. Louis Fed economic education program, Econ Ed at the Fed.
"We selected Vicki Fuhrhop as our Educator of the Year because she is an exceptional educator," said Mary Suiter, the St. Louis Fed's economic education officer and an assistant vice president. "She is the consummate professional who recognizes the importance of providing students with high-quality instruction in personal finance -- and the importance of providing high-quality professional development for teachers so that they are equipped to educate their students."
The award is given annually to recognize a board member for his or her commitment to economic and financial education.
Fuhrhop was honored at a dinner May 15 at the Federal Reserve Bank of St. Louis. Collinsville High School Principal David Snider, Collinsville High School Business Department Chair Jeri Arnold, Educator Advisory Board members, and Fuhrhop's family attended the event.
The St. Louis Fed's Econ Ed at the Fed offers more than 400 lesson plans, podcasts, videos, readings, Power Point slides and SMARTboard activities that can be used in Pre-K through college classrooms to teach economics and personal finance.