St. Louis Fed's Mary Suiter Awarded for Inspiring Economic Teachers
Assistant Vice President Mary Suiter, the economic education officer at the Federal Reserve Bank of St. Louis, has been named the 2018 winner of the James O'Neill Economic Education Multiplier Award from the National Association of Economic Educators.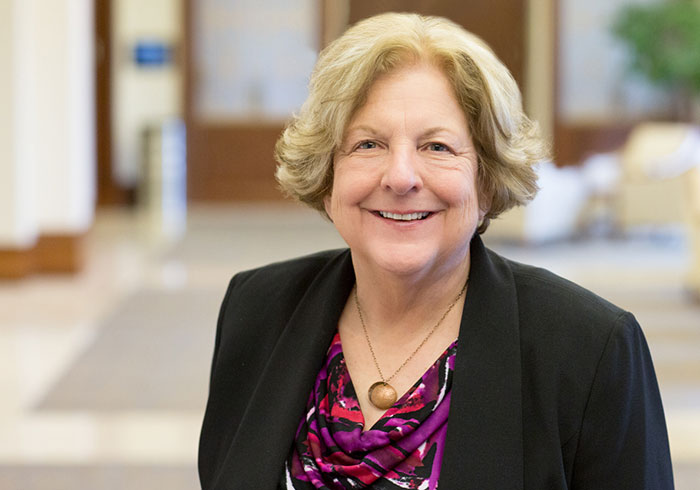 The award was created in 2015 to recognize "an economic educator who has been unusually successful at developing teachers of economics, and beyond that, someone who has inspired these teachers to also be advocates, recruiting other teachers into the economics fold," according to NAEE, which is composed of economic educators from across the country. "This economic educator, in the spirit of the award's namesake, multiplied the number of teachers, who further multiplied the number of students impacted by economics."
Suiter oversees the St. Louis Fed's Econ Lowdown program, which offers hundreds of free lessons about economics, personal finance, and money and banking. There are videos and online courses, for pre-K through college, as well as for parents and other consumers. There were more than 1 million enrollments last year in the online teacher portal, econlowdown.org.
"Mary exemplifies the leadership, influence and inspiration that this prestigious award represents," according to NAEE President Susan Doty. "From curricula designed for elementary teachers to those used by graduate faculty, Mary's lessons and pedagogy raise the bar for our network. Her professionalism, willingness to mentor others and to lead by example make us all better educators. The magnitude of her impact in economic and financial education is an exponential multiplier."
The award will be formally presented to Suiter in March at the NAEE professional development meeting in Los Angeles.
Suiter is a past president of NAEE and a recipient of the NAEE's Bessie B. Moore Service Award as well as its Patricia K. Elder International Award. She has taught economics and personal finance to teachers throughout the U.S. and in 14 other countries. She has also written numerous articles, lessons, book chapters and curricula on economics and personal finance for K-12 classrooms.
Laura Girresch

314-444-6166

Maria Hasenstab

314-444-8321

Shera Dalin

314-444-3911

Laura Taylor

314-444-8783