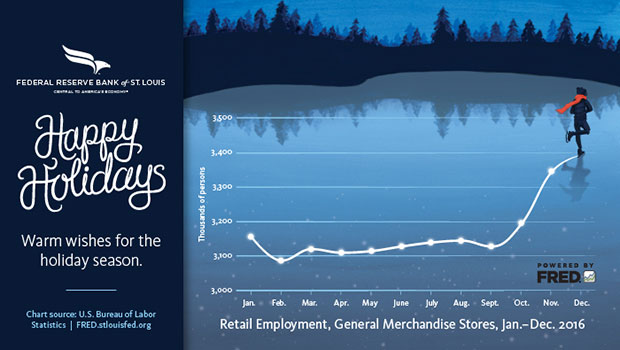 ST. LOUIS ‑‑ From driving to shopping, and cranberries to turkey – and even why the Fed advised against giving gold one year for Christmas – the Federal Reserve Bank of St. Louis has the holidays covered. FRED® and FRASER® offer data and a unique look at history surrounding the most wonderful time of the year.
FRED, or Federal Reserve Economic Data, aggregates data from dozens of sources and includes statistics related to travel, retail sales and more. FRASER, or Federal Reserve Archival System for Economic Research, includes historical documents related to Christmas messages, Thanksgiving feasts and more.
In FRED:
In FRASER:
For more information, visit fred.stlouisfed.org or fraser.stlouisfed.org. For media inquiries, contact Maria Hasenstab, at 314-444-8321 or maria.e.hasenstab@stls.frb.org.
FRED® and FRASER® are registered trademarks of the Federal Reserve Bank of St. Louis.