ST. LOUIS, MO ‑‑ Rodney Gerdes has been named the first recipient of the Economic Educator Advisory Board Educator of the Year Award from the Federal Reserve Bank of St. Louis.
Gerdes, a social studies teacher and department chair at Oakville High School, has served on the St. Louis Fed's Educator Advisory Board for six years.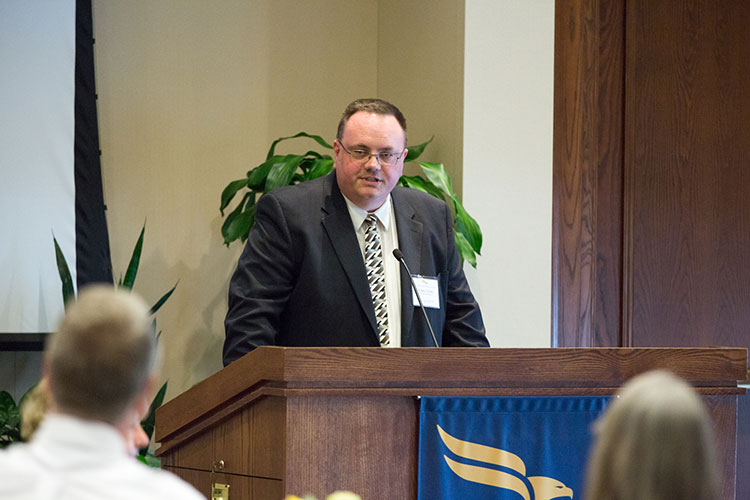 The board is composed of local teachers who attend meetings, review curriculum, present at events and contribute in other ways to the success of the St. Louis Fed economic education program, Econ Lowdown.
"We work with an exceptional group of educators who work with us in offering sound, effective and creative economic and financial education resources and programs," said Mary Suiter, a vice president who leads the economic education team at the St. Louis Fed. "We wanted to recognize a board member whose able assistance and consultation has been particularly helpful, even among this extraordinary group."
"We chose Rodney as the first recipient because during his time on the board he has helped us develop new programs and present them to national audiences, recruited teachers to attend events at the bank, arranged for us to provide in-service training to teachers in his district, assisted with our AP program, and more," Suiter said.
The award will be given annually to recognize a board member for his or her commitment to economic and financial education.
Gerdes was honored at a dinner April 27 at the Federal Reserve Bank of St. Louis. Oakville High School Principal Jan Kellerman, Educator Advisory Board members and Gerdes' family attended the event.
The St. Louis Fed's online Econ Lowdown program offers more than 400 free lessons about economics, personal finance, and money and banking. There are videos, online courses, podcasts and more for classrooms from pre-K through college, as well as parents and other consumers. There were more than 1 million enrollments last year in the online teacher portal, econlowdown.org. Similar free resources are available to the general public at stlouisfed.org/education.