Arlington Foster is a freshman at the University of Missouri-Columbia with a perfect GPA and plans to become a CEO. This fresh-faced 18-year-old is also the voice of one of the Bank's newest Economic Education videos: Building Bridges – Tools for Enhancing the Stock Market Game: Invest it Forward, Episode 3.
When he was a junior at Lutheran High School of St. Charles County, Arlington's business teacher, Amy Klein, told him about the student board of directors at the Federal Reserve Bank of St. Louis. "She told me it's a really cool experience and it would look good on my resume," he said recently, as he returned over the holidays to his second stint as an intern in Economic Education at the Bank.
Little did he know his decision to apply would lead to some big opportunities.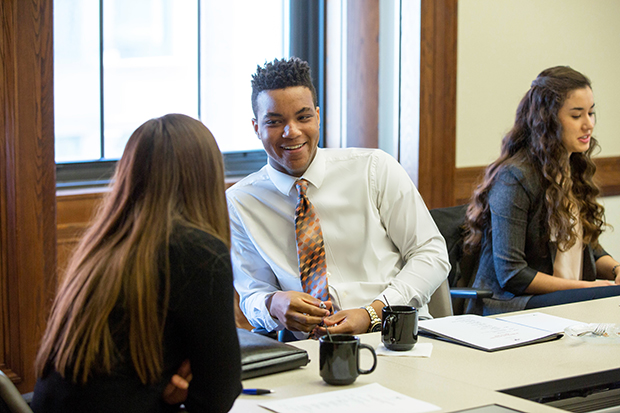 Klein and another teacher recommended him for the board. He filled out the application and wrote an essay. Despite having no economics class at his school of 300 students, he was excited when he found out he had been accepted.
"It was kind of a new experience to learn in-depth about the Fed," he said.
As a member of the board, Arlington attended regular meetings with students from all across the greater St. Louis area. "It was kind of scary at first," Arlington said. "I thought all the other students would be geniuses."
But they were like him: smart kids who enjoyed learning about the Fed and the economy, as well as meeting other students and Bank staff.
At the end of his student board term in the spring of 2016, Arlington applied to be an intern at the Bank. He spent the summer working on Q&As for podcasts, helping with teachers who attended Econ Ed conferences and voicing that new Building Bridges video. "That," he said, "was really cool."
The video is one in a series. It explains how cities and towns participate in capital markets to finance infrastructure in their communities.
In the fall, Arlington started college life at Mizzou. He joined Theta Chi fraternity, earned a 4.0 and looks forward to joining even more organizations.
Before joining the Student Board, Arlington had considered going to medical or law school. But he likes numbers, so now he plans on applying to the accountancy program. "I'd like to be a CEO and own my own business," he said.
He's on track to do so: At school, he's talking about starting a laundry business with friends. In the meantime, he also encourages other high school students to follow in his footsteps and apply to be on the student board of directors: "Write the best essay that you can," he said. "It teaches you about professionalism and about the Fed."
The St. Louis Fed's student board of directors program offers high school seniors a dynamic way to learn about our nation's central bank. Participants gain a thorough understanding of the Federal Reserve's role in the U.S. economy and experience its unusual partnership with banks, businesses and the community. St. Louis-area students are selected based on the quality of their essay and letters of recommendation. Students can learn how to apply—and you can learn more about the program and how to nominate a student—on the Bank's student board of directors page on stlouisfed.org. Applications will be accepted now through Feb. 17, 2017.
Econ Lowdown offers free lessons about economics, personal finance, and money and banking, as well as about the Federal Reserve itself. There are videos, online courses, and lessons for classrooms from pre-K through college. Similar free resources are available to the general public. For more information, visit stlouisfed.org/education.