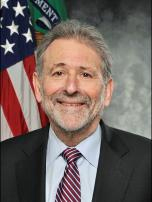 Michael Stegman is a senior research fellow in the Center for Household Financial Stability at the Federal Reserve Bank of St. Louis where he conducts research on the impact of homeownership on the balance sheets of low-income households. He also holds senior fellow positions at the Milken Institute Center for Financial Markets, and the Center for Community Capital at the University of North Carolina where he focuses on housing finance reform and affordable housing. He is a widely sought after expert and frequent public speaker on housing finance and has also written extensively on housing and urban policy, community development, access to credit, and asset development policies.
From 2015 to 2016, Stegman served as senior policy advisor for housing on the staff at the National Economic Council, following three and a half years as the counselor to the secretary of the Treasury for housing finance policy. As a senior policy advisor during the Obama administration, Stegman's policy responsibilities ranged from housing finance reform to access to credit to other housing-related issues.
Previously, Stegman served as a fellow at the Bipartisan Policy Center, and as director of policy and housing for the program on human and community development at the John D. and Catherine T. MacArthur Foundation for six years. Stegman is also a distinguished professor emeritus at the University of North Carolina at Chapel Hill, where he taught and conducted research on affordable housing policy as chair of the Department of City and Regional Planning and was founding chair of the Department of Public Policy. From 1993 to 1997, Stegman served as assistant secretary for policy development and research at the U.S. Department of Housing and Urban Development. During this time, Stegman was named by the National Journal as one of Washington's 100 most influential decision makers.
Stegman holds a bachelor's degree from Brooklyn College, City University of New York, and a master's degree and Ph.D. in city planning from the University of Pennsylvania.