Click on any photo to view a larger version.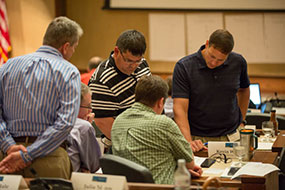 Teachers simulated the role of exam scorers, working in teams to develop rubrics.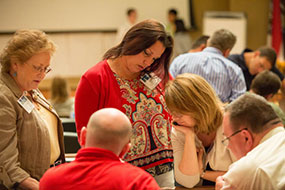 Veteran presenters worked with high school teachers in an active learning session.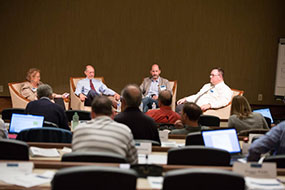 The expert educator panel featured professionals with a range of backgrounds: AP microeconomics and macroeconomics exam leaders, a veteran AP economics teacher trainer and a local AP econ teacher.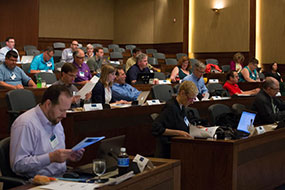 Dozens of teachers drawn by expert presenters and nationally-recognized economics educators attended this year's Federal Reserve Bank of St. Louis AP Economics Conference.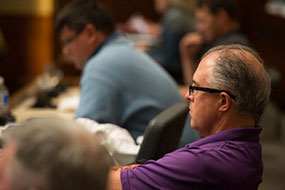 The conference attracted a mix of beginning and seasoned teachers.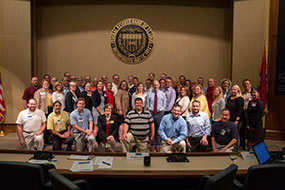 Participants, guest presenters and Federal Reserve Bank of St. Louis staff assembled in the Fed's Gateway Auditorium for a group portrait on the conference's final day. Teachers from 13 states and Canada trekked to St. Louis for the 2015 conference.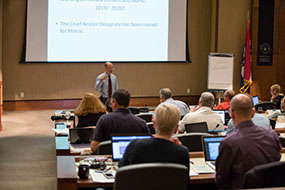 More than 125,000 students sat for the 2015 AP macroeconomics exam. The conference keynote presenter led the more than 100 veteran AP instructors who scored the exam.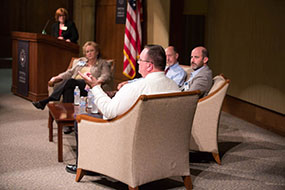 Expert panelists responded to audience questions and suggestions. Conference panelists weighed in on recommended teaching practices, exam preparation and student motivation.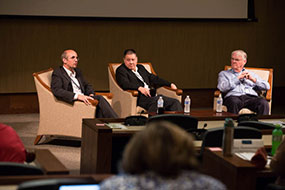 Professional economists from the U.S. and Europe field questions about a range of topics, including Greece's financial crisis.