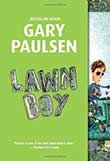 This six-session curriculum for grades six through eight corresponds to the book Lawn Boy by Gary Paulsen. Each session integrates economic content related to specific chapters of the book. Topics include: capital markets, circular flow, demand, diversification, supply, markets, opportunity cost, productivity, and risk.
This lesson plan is designed for teaching grades 6, 7, and 8.
Book written by Gary Paulsen / ISBN: 978-0-553-49465-5. This book is available in print and electronic format.
---
If you have difficulty accessing this content due to a disability, please contact us at 314-444-4662 or economiceducation@stls.frb.org.