The Case of the Shrunken Allowance Lesson for Grades 1-3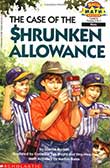 Students listen to a story about P.B. who thinks money is missing from the peanut butter jar on his window ledge. In addition to basic concepts of saving and spending, students learn currency equivalency and some measurement concepts.
Parents: View the Q&A using The Case of the Shrunken Allowance.
This lesson plan is designed for teaching grades 1, 2, and 3.
Book written by Joanne Rocklin (ISBN: 978-0590120067). This book is out of print but is available used.
---
If you have difficulty accessing this content due to a disability, please contact us at 314-444-4662 or economiceducation@stls.frb.org.
Find More Economics and Personal Finance Resources