Splat the Cat Takes the Cake Lesson for Grades 2-3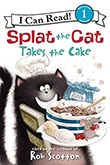 In this lesson, students participate in a market activity in which a market for cake ingredients is set up to demonstrate the process of using a spending budget. They listen to the story Splat the Cat Takes the Cake and answer comprehension questions through a student-led Q&A. By participating in the opening market activity and reading the story, students use what they have read and learned to conclude that the ingredients Splat used were purchased with money that was earned. They participate in a read-aloud activity to identify specific long-vowel sounds and earn Splat bucks. They use the Splat bucks to purchase materials to decorate a cake and track their spending.
This lesson plan is designed for teaching grades 2 and 3.
Book written by Rob Scotton / ISBN: 978-06-197859-3.
Braille and Talking Book versions are available via the National Library Service for the Blind and Print Disabled. Library of Congress catalogue numbers are provided for accessible versions. The books can be accessed through BARD (Braille and Audio Reading Download). The book is available in Braille LCCN 2016996672 and Talking Book LCCN 2013991572.
---
If you have difficulty accessing this content due to a disability, please contact us at 314-444-4662 or economiceducation@stls.frb.org.
Find More Economics and Personal Finance Resources