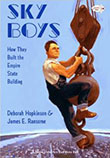 In this lesson, students learn about human resources, productivity, human capital, and physical capital. They participate in three rounds of a reasoning activity. From round to round they receive training and tools to help them improve their reasoning ability and thus increase their productivity. Students will then listen to a story about how the Empire State Building was built and identify examples of key concepts mentioned or shown in the book.
• Lesson (pdf)

• Whiteboard (SMART/notebook)

• Whiteboard (ActivInspire/flipchart)

• Q&A (pdf)
Parents: View the Q&A using Sky Boys: How They Built the Empire State Building.
This lesson plan is designed for teaching grades 3, 4, and 5.
Book written by Deborah Hopkinson / ISBN: 978-0-375-86541-1. This book is available in print and electronic format.
---
If you have difficulty accessing this content due to a disability, please contact us at 314-444-4662 or economiceducation@stls.frb.org.