Do you have questions about opening a bank account? Follow along as Katrina talks with a representative from Broadway Bank about opening an account in this episode of our Personal Finance 101 Chats series.
Please note: Due to recent upgrades to some internet browsers, the Personal Finance 101 Chats may not work well for all users. We suggest using the chat transcript below as an alternative to the chat application.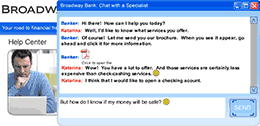 Spanish version / versión español
---
Chat Transcript
Banker: Hi there! How can I help you today?
Katarina: Well, I'd like to know what services you offer.
Banker: Of course! Let me send you our brochure. When you see it appear, go ahead and click it for more information.
Banker:
Katarina: Wow! You have a lot to offer. And those services are certainly less expensive than check-cashing services.
Katarina: I think that I would like to open a checking account.
Katarina: But how do I know my money will be safe?
Banker: Great question! First, we have a very safe vault.
Banker: Here's a picture
Banker: Also, we are FDIC Insured.
Katarina: What does that mean, exactly?
Banker: It means that all deposits are insured up to $250,000 by the full faith and credit of the United States government! Here is a link to their website, if you'd like to visit: http://www.fdic.gov/
Katarina: So even if the bank goes out of business or is robbed, my money is safe?
Banker: That's right! Deposits are insured up to $250,000.
Katarina: That's much safer than my sock drawer!
Katarina: I'm just not sure what I need to open an account.
Banker: Well, that's easy. Just come into any bank and bring your Social Security card and driver's license or passport.
Katarina: That works for me.
Katarina: I have a neighbor who needs a bank account, but she's not a U.S. citizen. Is there anything you can do for her?
Banker: Sure. She can still open a bank account. She'll need three things:
Banker: 1) her Social Security card or proof of a taxpayer identification number (TIN). Although most banks ask for Social Security number, you are generally not required to provide one if you don't have one. Click here if you'd like more information: https://www.ssa.gov/pubs/EN-05-10096.pdf.
Banker: 2) her green card
Banker: 3) and her valid driver's license
Banker: 3) or passport
Katarina: Great! I'll let her know. Now for my account, do I have to fill out any difficult paperwork?
Banker: Yes and no… there is a form to fill out, but it's short and easy. Would you like me to send you a copy?
Katarina: yes, that would be great! Thank you so much!
Banker: It was great talking with you today. I hope you'll open an account with us soon. Here is that form!
---
If you have difficulty accessing this content due to a disability, please contact us at 314-444-4662 or economiceducation@stls.frb.org.